Tigers 7-0 and Clinch Playoff Spot After Football Thriller in Texas
October 23, 2010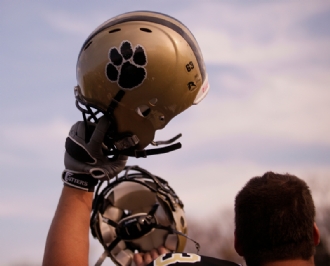 October 23, 2010, San Antonio, Tex. — They don't come any more thrilling than the Southern Collegiate Athletic Conference football game between DePauw University and Trinity University this afternoon. A touchdown with just 20 seconds left in the contest, followed by a two point conversion, gave the visitors their first-ever victory in San Antonio, 32-31.
DePauw improves to 7-0 on the season and 5-0 in SCAC play. Trinity is now 3-4 overall and 1-3 in the conference.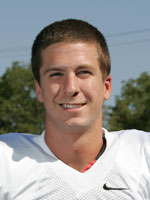 With the victory, DePauw clinches a share of its fourth SCAC title and earns its second straight automatic qualification into the NCAA Division III Football Championship.
Senior Alex Koors (pictured at right) caught 10 passes for 170 yards and three touchdowns, including the score that set up the game winning two point conversion. With his performance, Koors became the Tigers' all-time leader in receptions, eclipsing the mark held by Bryan Mulligan '10 (217 catches). Koors' 226 career receptions also sets a new conference record.
Quarterback Michael Engle also had a big day, completing 28-of-41 passes for 369 yards and 4 touchdowns, as well as two interceptions.
The scoring began with 2:01 left in the first quarter, senior quarterback Michael Engle found Colin Doran on a 23 yard touchdown pass, and the visitors took a 7-0 lead.
But less than twenty seconds later, Trinity answered with a 64 yard TD pass from Nykolas McKissic to Caleb Urban.
The Tigers from Greencastle reclaimed the lead with 13:32 remaining in the second stanza when Engle and Koors collaborated on a 38 yard scoring strike.
The score see-sawed to 14-14 with 8:17 left before halftime when Trinity's McKissic hit Markham Stayton on a 22 yard pass for paydirt.
Trinity recovered the ensuing kickoff and on a third-and-14 play, McKissic and Urban connected on a 35 yard touchdown, making it 21-14 Trinity with 6:39 to go before the break.
DePauw drove and had the ball at the home team's 6 yard line when Engle was intercepted just before halftime.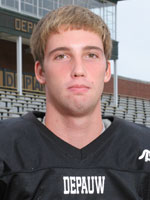 The Trinity lead grew to 24-14 with 8:16 remaining in the third quarter when Garrett Biel nailed a 33 yard field goal.
But DePauw had an answer. An Engle-to-Koors pass from 30 yards out narrowed Trinity's lead to 24-21 with 5:25 left in the third.
Freshman kicker Eric Malm tied the contest with 10:56 left when he drilled a 41 yard field goal to wrap up a 14 play, 64 yard drive.
DePauw was driving with the clock winding down when an Engle pass was intercepted and returned 67 yards for a score. Things looked bleak with only 1:13 left on the clock. But the visiting Tigers never quit, and drove the field, with Engle and Koors completing their hat trick of scores from 34 yards out with just :20 remaining. Head coach Robby Long decided to try for two and Nathan Evans (pictured at right) made a diving catch in the end zone of an Engle throw to give the Tigers the one point advantage, which decided the game.
DePauw had 474 yards of total offense, compared to 271 for Trinity, and had twice as many first
downs (28 to 14). The black-and-gold also collected 105 yards on the ground.
Next Saturday, the Tigers return home to face Birmingham-Southern at Blackstock Stadium. The 1 p.m. game does not count in SCAC standings as the Panthers are in their final year of NCAA Division III provisional status.
For comprehensive coverage of Tiger football, visit the football team's official online page.
Pre-orders are now being accepted for the 2010 Monon Bell DVD. Learn more here.
Back