Sally M. Reasoner '11
October 26, 2010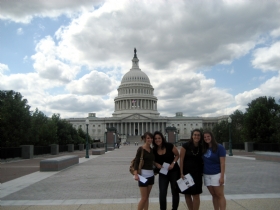 This past summer, Sally M. Reasoner '11 interned at the Woodrow Wilson International Center for Scholars in Washington, D.C. She was a research assistant to political journalist and senior scholar at the center, Linda Killian.

Former center director and DePauw graduate Lee H. Hamilton '52, describes the center's history on its website. "Established by an act of Congress in 1968, the Wilson Center is our nation's official living memorial to President Woodrow Wilson. As both a distinguished scholar – the only American President with a Ph.D. – and a national leader, Wilson felt strongly that the scholar and the policymaker were engaged in a common enterprise."

Hamilton continues, "The mission of the center is to commemorate the ideals and concerns of Woodrow Wilson by providing a link between the world of ideas and the world of policy; and fostering research, study, discussion, and collaboration among a full spectrum of individuals concerned with policy and scholarship in national and world affairs."

Reasoner, a political science major and education studies minor, was in her element. Last summer was her second trip to Washington as a DePauw student. In fall 2009, she had a semester-long internship at the Department of Education through the Boston University Washington Center, a program that Killian directed.

"I got to know Linda pretty well during the fall semester. When she decided to leave the university program to focus on writing a book, she asked me to be her research assistant at the Wilson Center," Reasoner explained.


Killian's book focuses on independent voters in the upcoming election and where they fit into the current political climate. She looks at four states – Colorado, Ohio, New Hampshire and Virginia.

"My work was different everyday, and it was really exciting," Reasoner says. "Since the Colorado primaries were in August, we focused a lot of our time on that state. I learned an incredible amount about Colorado politics, as well as the unique races and intricacies of the other three states and their political systems.

"I also spent time contacting United States senators directly, setting up appointments for Linda. To have that kind of access was incredible."

Another thrill for her was meeting Lee H. Hamilton '52. After arriving at the center, Reasoner made a point to meet him in his office. However, after their initial conversation, when she passed him in the hallway, he always stopped to talk.

"It was so great to meet him," Reasoner says. "He was interested in what I was doing as well as hearing about my brother, Scott Reasoner '09, who he had met before at DePauw. He loved to talk about his DePauw experience, including his fraternity days. He's the nicest guy – people at the center think very highly of him."

Reasoner believes that DePauw has provided her with opportunities that she never would have had anywhere else. "I'm really happy that I came to DePauw because of all the opportunities I have been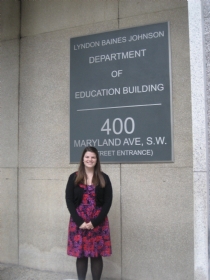 afforded. At DePauw, I was able to get involved right away.
"By sophomore year, I held leadership positions, such as president of Civic Fellows, which helped me grow into the person I am today. It is because of these experiences that I secured my internship last fall and this summer. This year, I am president of Kappa Kappa Gamma sorority, a senior interviewer in the admission office, and a presidential ambassador – all experiences I don't think I would have had anywhere else."

In addition to her work on campus, Reasoner is passionate about community service and bridging town/gown relationships. She volunteers each week at Tots Time, a free child care center sponsored by Putnam County Family Support Services.

"Also, this is my third year being a Girl Scout troop leader. The girls are now in middle school. I've loved getting to know them – it's so much fun. We meet once a month and plan different activities," Reasoner says. "We have the most interesting discussions, and being a part this group outside of campus has definitely added a different perspective to college life.

"After graduating in the spring, I'm thinking about going to law school, but I'd like to teach, too. Coming to DePauw my mind was focused on politics, but it was a liberal arts education that taught me my interests are not mutually exclusive. I am thankful for my DePauw education and hope to pursue a career in education policy or law."







Back