Brandon Chapman '02 Publishes Culture in Anthropology: A Reader
November 10, 2010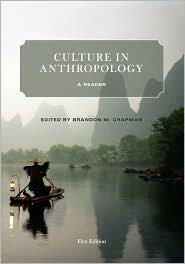 November 10, 2010, Greencastle, Ind. — Brandon M. Chapman -- an instructor of general education at the University of Idaho and 2002 graduate of DePauw University, is the editor of Culture in Anthropology: A Reader. The book is distributed by Cognella Academic Publishing. Chapman is currently a doctoral student in anthropology at Washington State University.
A synopsis notes, "Designed as a primary textbook or supplemental reading packet for holistic introductory anthropology courses that cover multiple sub-fields, Culture in Anthropology brings together a variety of methodological, ethnographic, and writing styles centered around the core concept of anthropology: culture. Covering an assortment of regions and ethnic groups across the globe, these first-hand writings from leading current and classic anthropologists speak to numerous themes, emphasizing culture's crucial role in human behavior, thought, and diversity."
Learn more by clicking here or order the title at Barnes & Noble.com.
Back