International Education Week
November 11, 2010
DePauw will celebrate International Education Week Nov. 15-20 with events that feature the benefits of international education and exchange worldwide. The week culminates with the much-anticipated International Bazaar. DePauw's 240 international students, representing 41 countries, will share their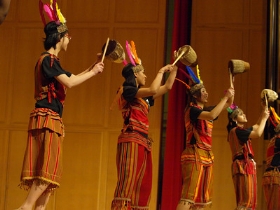 culinary specialties, in addition to performing cultural songs and dances.

For a detailed schedule of events, please visit the DePauw International Education Week website.

International Education Week is a joint initiative of the U.S. Dept. of State and U.S. Dept. of Education. The website states, "The goal is to promote programs that prepare Americans for a global environment and attract future leaders from abroad to study, learn, and exchange experiences in the United States."

Loutfi Jirari, director of international student services, says, "We want to emphasize the importance of studying abroad and the importance of being a part of an international campus."

"The theme of the International Bazaar is Pangaea – celebrating when all continents were one. Our focus is unity – helping us better understand that we all share the same goals and aspirations no matter where we come from," Jirari says.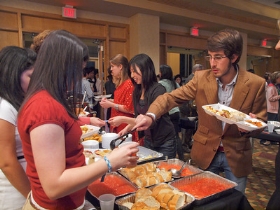 The Bazaar is Sat., Nov. 20 at 5:30 p.m. in the Memorial Student Union Building ballroom. The cost is $3, and it is open to the public.

Ashlee L. Anton '11, an intern for the Office of International Student Services, Taylor M. Cantril '11 and Xinxin Liu '12 have organized a student-led panel, "Student Perspectives on Global Development: Abroad Experiences & Millennium Development Goals," on Nov. 18 at 7 p.m. in Watson Forum in the Pulliam Center for Contemporary Media. Eight student panelists will share their experiences abroad in relation to the United Nations Millennium Development Goals proposed in 2000.

"We hope that the DePauw community will engage, learn and question how they fit into the fabric of international education at DePauw," Anton says. "There is so much to learn from our peers. Hopefully, the panelist discussion will spark conversations among students who have been abroad or are planning to go abroad, and those students who have an interest in world affairs.

"Also, watch for DePauw's Gumball Challenge team," Anton says. Gumball Challenge is a national program that is raising money to help entrepreneurs in developing countries and to eliminate global poverty. "The Gumball Challenge has been covered nationally by the media, and the DePauw team is hoping to win that challenge." Learn more by visiting their website here.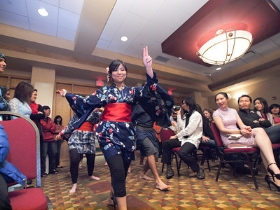 Anton says that planning the weeks' events has been a collaborative effort. "The Civic, Global and Professional Opportunities interns and Office of International Student Services interns have been working hard to promote the events."

Henry K. Dambanemuya '13, intern for the Office of International Student Services, says, "As President Brian W. Casey emphasized in his latest discussion on diversity, we need more DePauw moments of intermingling.

"Through collaboration among student organizations and the events planned for the week, I hope students will move out of their social spaces, mingle and embrace the spirit of Pangaea. We hope to spark intellectual discussion about important global issues."

"We invite students, faculty and staff members, and the Greencastle community to join us in celebrating International Education Week," Jirari says.

International Education Week is sponsored by International Student Services; Civic, Global and Professional Opportunities; International Student Association; Model UN, ELP; Muslim Student Association; Hillel; Feminista!; DePauw Global Health Initiative; DePauw Environmental Club; Building Tomorrow; DePauw China Connections; and Cultural Connections Program.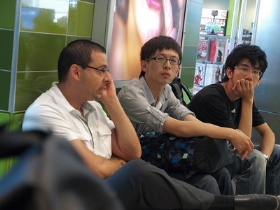 Beyond International Education Week, the following are ongoing programs that enable students to get involved in international life at DePauw.

Cultural Connections helps DePauw students build a deeper understanding of the value of worldwide education, development and communication. Through Cultural Connections, students participate in a variety of events ranging from individual presentations to displaying exhibits for multicultural and international festivals at schools throughout Putnam County. Contact Henry K. Dambanemuya '13 for more information.

Conversation Café takes place at the newly renovated Dorothy Brown Cultural Center every Friday from 4:15-6:15 p.m. Student-run and highly engaging, Conversation Café aims to bring domestic and international students together to discuss relevant issues. Conversation Café is a great place to spark conversation that will lead to discussions in the greater DePauw and Greencastle communities. Contact Ashlee L. Anton '11 for more information.


Back