Wabash Maintains Hold on Monon Bell with 47-0 Victory Over Previously Unbeaten Tigers
November 13, 2010
Also:

[Download Video: "2010 Monon Memory" - 7722kb]; Photo Galleries 1, 2; Order Your 2010 Monon Bell Classic DVD
November 13, 2010, Crawfordsville, Ind. — Wabash College shattered DePauw University's dream of a first-ever 10-0 season this afternoon, stunning the #18 Tigers in a 47-0 blowout. The Little Giants rolled up 498 yards of total offense to 95 for DePauw. The Tigers take a 9-1 record into the NCAA Division III playoffs next weekend and will learn their seeding tomorrow. Wabash improves to 8-2 on the season.
The margin of victory in the 117th Monon Bell Classic was the largest since 1952 when the Little Giants won by the same score. The 47 points tied a record for the third-largest winning margin in the game's history. The shutout was the first since 1967, when Wabash downed their rivals by a 7-0 count.
Wabash started the scoring in the first quarter with a 43 yard field goal by Spencer Whitehead and the Little Giants never looked back. The hosts picked up 292 yards on the ground to the visitors' 11. The game was played in rainy and windy conditions before an announced crowd of more than 11,000 fans. See a "Monon Memory" of today's contest here:

[Download Video: "2010 Monon Memory" - 7722kb].
Wabash now has a 55-53-9 lead in the all-time series. Since the Monon Bell was introduced as the winner's prize in 1932, DePauw maintains a 37-36-6 advantage.
Today's game was televised nationally by HDNet. See Robby Long's interview at the end of the first half:

[Download Video: "Coach's Perspective at Halftime" - 1512kb]; and announcers Kenny Rice and Paul Maguire call the end of the game:

[Download Video: "A Part of Americana" - 3983kb].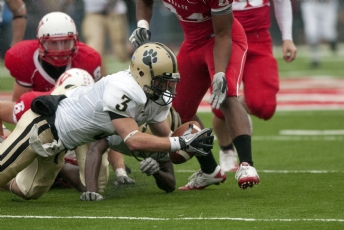 For comprehensive coverage of today's game, visit the football team's online page.
Indianapolis NBC affiliate WTHR aired highlights of the rivalry battle on its 6 p.m. newscast this evening:

[Download Video: "WTHR Coverage" - 2688kb].
Orders are now being accepted for the 2010 Monon Bell DVD, which will be professionally replicated and made available in limited quantities. Learn more here. An online order form can be accessed by clicking here.
A complete roster of "Monon Memories" -- video highlights of past classics -- can be found here.
Access DePauw's Monon Bell Web page here.
Back