Wabash Retains Monon Bell Possession with Shutout over Tigers
November 13, 2010
BOX SCORE | PHOTO GALLERY 1 |PHOTO GALLERY 2 | DEPAUW'S MONON BELL PAGE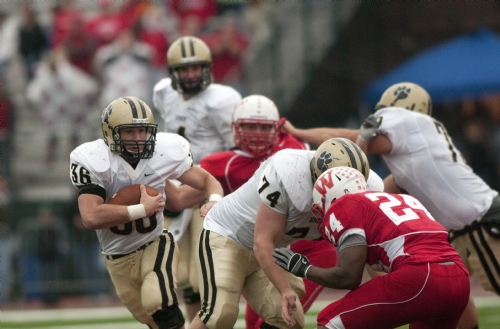 November 13, 2010, Crawfordsville, Ind. — Host Wabash totaled 498 yards of offense and held DePauw to just 95 on the way to a 47-0 shutout of the Tigers in the annual Monon Bell game on a damp, dreary afternoon at Hollett Little Giant Stadium.
The 18th-ranked Tigers finished the regular season at 9-1 and open NCAA Division III postseason play next Saturday. That opponent and site will be announced between 3-3:30 p.m. tomorrow on ESPNews. Wabash improved to 8-2 with the victory.
Wabash also extended its lead in the series to 55-53-9 and closed DePauw's lead in games played for possession of the Monon Bell to 37-36-6.
Neither team managed a first down through the game's first three possessions, but the Little Giants took a 3-0 lead on Spencer Whitehead's 43-yard field goal with 9:01 left in the first. The Tigers punted on each of their next two series, before Wabash's Tyler Burke scored on a 14-yard run to make it 9-0 with 2:26 remaining in the quarter.
Late in the the first, DePauw's Taylor Wagner (pictured below) recovered a fumbled Wabash punt return at the Wabash 33, but the Tigers couldn't convert and gave the ball back to the Little Giants on downs.
Wabash then made it 12-0 on Whitehead's 31-yard field goal with 8:17 left in the half which capped a 15-play drive. The Little Giants were driving on their next possession before Jonathan Lambert picked of Burke's pass at the DePauw 32 with 2:18 left.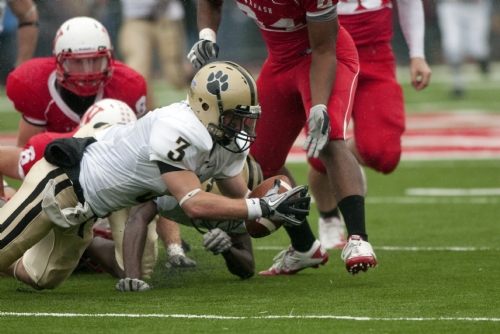 DePauw converted a fourth down, but were stopped at the Wabash 49. A bad punt snapped resulted in a loss of 25 yards and the Little Giants needed just two plays to take a 19-0 lead as Chase Belton teamed with Geoffrey Wright for a 23-yard score.
Wabash put the game away in the second half as it scored touchdowns on its first four possessions. Meanwhile, the Tigers' first four series of the half ended in another bad punt snap, an interception, punt and a second interception.
DePauw totaled just 11 rushing yards, while Michael Engle completed 12-of-33 passes for just 84 yards. Brayden Dahlstrom caught four for 35 yards and Alex Koors had three for 35 yards. Koors set the DePauw record with a catch in his 39th straight game, breaking the mark held by Jay Pettigrew (1993-96).
Derrick Yoder paced Wabash with 164 rushing yards in 24 carries as the Little Giants totaled 292 on the ground. Burke and Belton combined to total 206 passing yards with four touchdown passes to four different receivers. Jonathan Horn led the way with seven catches for 105 yards.
Lambert and Ryan Preuss each had 12 tackles for DePauw, while James Foglton had nine. Matt Johnson and Tyler Doane had one sack each in the loss. Deonte Singfield led Wabash with nine tackles, while James Pannell and Blake Powell each intercepted a pass.
DePauw converted just 2-of-15 third down situations and 1-of-5 on fourth, while Wabash was 11-of-17 on third downs and perfect on its only fourth down.
The shutout was the first in the series since Wabash claimed a 7-0 win in 1967 and the 47-point margin equaled the third largest in the 117 meetings and largest since a similar 47-0 Wabash win in 1952.
With Wabash spoiling DePauw's perfect regular season, it marked the third time in the last four years it's happened as DePauw defeated 9-0 Little Giant teams in 2007 and 2008.
Follow DePauw Athletics on Twitter | Become a Fan of DePauw Athletics on Facebook
Back