Community and Campus Come Together for GIS Day
November 17, 2010
November 17, 2010, Greencastle, Ind. — "Scott Wilkerson, structural geologist and professor of geosciences, is teaching a first-year discussion-based seminar that is utilizing Google Earth as a tool and focusing on geology and environmental science," notes a story in Greencastle's Banner-Graphic, which coincides with today's National Geographic Information Systems (GIS) Day at DePauw University. "Students have been working on semester-long projects for GIS Day that incorporate a Google Earth interactive display as well as project posters ranging from such subject matter as wind farms to groundwater to depletion, among others," writes Amanda Junk.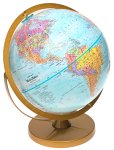 Today's program gives local residents "the chance to learn some of the practical applications of Google Earth," according to the newspaper. "DePauw University has been celebrating the day every year since 2004 in the Julian Science and Math Building atrium, said Beth Wilkerson, event organizer and GIS specialist for the university. Geographic Information Systems (GIS) is essentially anything that uses the locational component of data, she said. What makes the day so interesting, she said, is most people may not realize Putnam County is involved with the statewide initiative to get data online to track 911 dispatches and farm services, she said."
You can learn more at the Banner-Graphic's website.
Back