Your Sound Alternative
December 10, 2010
The largest student-run organization on campus is DePauw's radio station – WGRE 91.5 FM. More than 200 student volunteers actively participate – almost 10 percent of the student body – providing live broadcasting 24/7 over the airways and more recently, to a fast growing audience, through live Web streaming.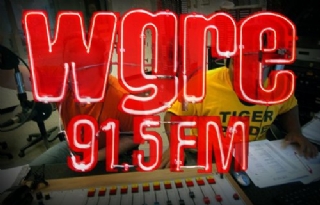 Founded in 1949, WGRE was the first FCC-licensed 10-watt educational FM radio station in the country. The station has won many awards over the years from the Society of Professional Journalists, Indiana Associated Press and Indiana Broadcasters Association.

Betty Turnell was WGRE's co-founding faculty supervisor. In October 2010, she was inducted posthumously into the Indiana Broadcast Hall of Fame – a unique honor, as most inductees are commercial or professional broadcasters. Turnell was an educational broadcasting pioneer. Learn more about her in this previous article.

Tyler A. Archer '11, WGRE station manager, nominated Turnell for the award. "It was a really exciting event for us, and it gave WGRE more credibility and exposure," he says.

Archer boasts of the station's unique programming. "There's a lot of variety. We need that in order to get people interested," he says. "The one thing we find is that every hour is a little bit different. We have a sound – college alternative – if you just listen to the music, but you really do hear a different voice every hour or two."

Jeffrey "Jeff" M. McCall '76, professor of communication and theatre, has been the WGRE station director for more than 25 years. He had prior experience – as a student – at the station before becoming a faculty member.

He and Christopher "Chris" D. Newton '85, assistant director of the Eugene S. Pulliam Center for Contemporary Media and WGRE operations support coordinator, are both DePauw and WGRE alumni.

"Both Chris and I bring history and some memories to the station, which I think makes us care what happens here," McCall says. "WGRE was important for both of us as undergraduates, and we see what kind of role it can serve for students while they're here. For some students, in addition to their classes, this is something that makes them feel connected to the University.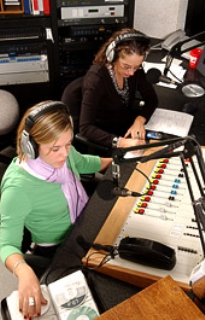 "Their experience at WGRE gives them an insight into the world that is hard to get otherwise, and we can get some pretty interesting experiences out of this," McCall says. "Our music directors talk to performers, producers, suppliers and singers. That gives them a way to connect to the real world that your average college student doesn't get to do.

"Our sportscasters go on the road with the DePauw football and basketball teams. They cover Colts and Pacers games with press credentials. So, they not only get to interview and talk to the professional athletes, they get to be in the same press row with reporters from ESPN and The Indianapolis Star," he says.

Archer agrees that WGRE provides a unique opportunity for students. "If you go to other schools, the opportunities are still there, but there are more people who want to do them. I broadcasted games my freshman year. If you go to IU, there is no way you could do that. You may get a couple games your junior or senior year," he says.

"One of the things I appreciate a lot about WGRE is that it's an all-comers organization," McCall says. "It's not just for certain majors or certain age groups. Literally, from the time first-year students arrive on campus, they could be on the air within 48 hours, if they're interested.

"I'd like to think that the experience for our students is not only fun, but that they also learn something about how the communication world works, how the media operations are organized, how to connect to an audience, and how to gain some sense of what programming strategies are. I'd like to think that it's a liberal arts vision we're serving," McCall says.

Visit the newly enhanced WGRE website to listen live, download an iPhone application, view an on-air calendar and more.

To learn more about WGRE's history, visit WGRE: 60 Years of Radio, an online exhibit through the DePauw Archives that was created by Archer.
Back