Inn Revives Holiday Tradition, Builds Large Gingerbread House to Welcome Guests
December 16, 2010
December 16, 2010, Greencastle, Ind. — "We heard they used to do this years ago, and we wanted to bring back the tradition we heard had been so popular," Trish Williams, general manager of the Inn at DePauw, tells the Banner-Graphic. The Greencastle newspaper reports that the Inn's staff has built a large gingerbread house, which welcomes visitors as they enter the hotel and conference center. Its ingredients include 175 pounds of icing and 147 pounds of gingerbread and it took three weeks to construct. (at left: Trish Williams and Ashley Dora stand beside the gingerbread house; photo courtesy Banner-Graphic)
"Besides a frame of masonite pegboard, the remainder of the project is edible, including a gingerbread façade affixed with icing for glue," , writes Jared Jernagen. "A number of other candies -- gumdrops, Life Savers, marshmallows, red licorice, cookies and peppermint candies among them -- help round out the decoration of the house. The house also features a lighted Christmas tree on the inside. The public is invited to come see the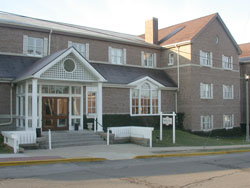 house and its decorations as part of Tiger's Breakfast with Santa from 8 a.m. to noon Saturday."
The paper notes that a team of Inn employees -- including Williams, director of sales Ashley Dora, chefs Jim Roberts, Daniel Justiniano and Tim Morton -- began working on the giant confection after Thanksgiving.
Read more at the Banner-Graphic's website.
The Inn at DePauw is located at 2 West Seminary Street, Greencastle, Indiana 46135. The telephone number is (765) 658-1000.
Back