Generosity of DePauw and Local Communities Brings Health and Hope to African Girl
January 5, 2011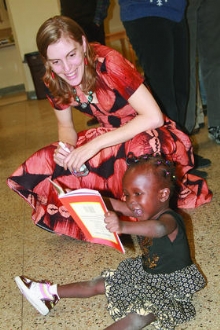 January 5, 2011, Greencastle, Ind. — A fundraising drive led by two DePauw University faculty members and their daughter, and supported by members of the DePauw and Putnam County communities, has brought health and hope to a two-year-old African girl. An article in today's Banner-Graphic describes how Taren Stinebrickner-Kauffman met Kalila Mahama while backpacking in Africa. The young girl suffered from a rare heart defect. (at left: Stinebrickner-Kauffman and Kalila Mahama yesterday at Gobin Church; courtesy Banner-Graphic)
"Kalila was diagnosed by doctors from Children's Hospital Boston who were at a teaching hospital in Ghana," writes Jamie Barrand. "Doctors told Kalila's parents that without surgery, their daughter would die. To add to their despair, (the parents) discovered there was nowhere in Ghana to have the surgery done. And even if there had been, the couple -- who both work but bring in an annual income of about $8,000 -- had no way to pay for Kalila's operation."
Stinebrickner-Kauffman contacted her parents -- Bruce Stinebrickner, Leonard E. and Mary B. Howell Professor of Political Science at DePauw, and Kelsey Kaufman, part-time assistant professor of University Studies -- who then turned to their friends in the local community with a plea for help.
"The estimate was that $36,000 needed to be raised," reports the newspaper. "More than 200 donations came in,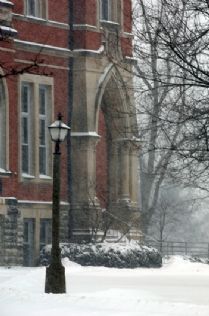 and before long enough money had been raised to fly Kalila and her parents to the United States and pay for the surgery the toddler so desperately needed."
Kalila underwent heart surgery on December 13 at Riley Children's Hospital in Indianapolis and yesterday was greeted by her new friends in Greencastle, who gathered for a celebration at Gobin Memorial United Methodist Church.
Barrand writes, "The donations have, in fact, exceeded the needed funds. Kauffman said she has offered to give back donations that were not used. Any donations that do not go back to the contributors will be forwarded to the Rotary Gift of Life Program, through which American doctors travel to the Middle East to perform life-saving heart procedures on children in need and educate Middle Eastern doctors on how to do those procedures."
Access the complete story, "African family gets miracle," at the Banner-Graphic's website.
Back