Your First-Year Experience
January 7, 2011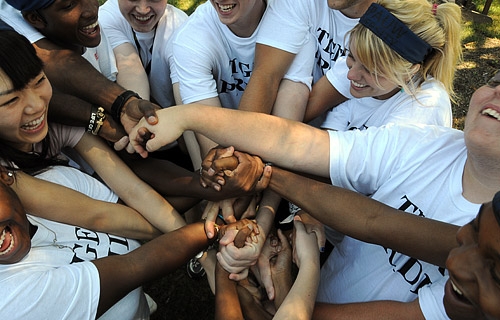 Matthew "Matt" L. Welch '11 has been an active participant in the First-Year Experience program since the day he arrived on campus four years ago. One of the key components of the experience is the mentor program. Welch was a mentor for two years and now holds one of the seven coveted peer mentor positions.

"The First-Year Experience program acclimates students to DePauw and helps them find their place," Welch says. "Mentors work with first-year students when they arrive on campus their first day in August and continue through May. So, it's a year of meetings, events, and time spent hanging out."

Cara L. Setchell, associate dean of students and coordinator of the First-Year Experience program, describes a unique aspect of the program – it's truly peer driven with an administrative connection.

Peer mentors are the direct link between mentors and DePauw staff members. They supervise a group of 8-10 mentors and model how to work with first-year students.

"These students are highly skilled," Setchell says. "They are outstanding campus leaders and are so passionate about first-year students and their mentors."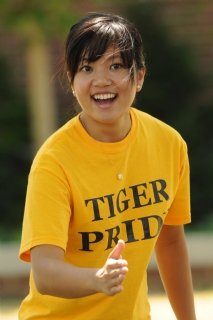 "As a peer mentor, I work with 10 energetic, intelligent and engaged DePauw students on a weekly basis," Welch says. "It's a lot of fun, a great responsibility and such a phenomenal thing that we get to do – as students."

Kathyrn "Kate" G. Merkel '11 is also a peer mentor and says, "It's one of the most challenging and rewarding experiences I've had at DePauw – working with amazing student leaders and passionate, committed staff members.

"The program is like anything in life – you get out of it what you put into it. First-year students have the potential of gaining a lot from this program – giving them the opportunity to learn, reflect and lean on others for support during the transition to college life," Merkel says.

The first-year seminar, another component of the First-Year Experience program, defines the 45 mentor groups. Each seminar has an upper-class student assigned as its mentor. Click here to read a recent story about a first-year seminar.

Mentor Logan A. Meek '12 says, "The first-year experience isn't just another orientation program that you could find at any school. When you combine the mentor group with the first-year seminar, you're given the opportunity for intellectual exploration combined with the opportunity to build great relationships.

"Everyone involved in the program is dedicated to making a positive impact in the lives of first-year students. It's a really great community to be a part of," Meek says.

Arezoo Nazari '13 applied to be a mentor so she could give back to DePauw. "It's so rewarding to be able to help first-year students transition, excel and enjoy the DePauw experience," she says.

Setchell says that coordinating this program is one of the best parts of her job because of the students. "It's such a fun program to work with. The students have lots of energy and passion for what they're doing. In addition, it's a very diverse group. At the end of mentor training, students say they would have never had the opportunity to meet such a great group of diverse students," she says.


After the four-day orientation in August, the mentor groups continue to meet each week during the fall and then twice a month in the spring. Last fall, groups explored a variety of themes, including: navigating resources to support your intellectual life, developing meaningful relationships, living a healthy lifestyle, and exploring the opportunities of the liberal arts.

Setchell says, " We work hard to keep the mentor groups intact during second semester. They'll meet this spring to focus on how to manage the greater autonomy they will have as sophomores and the greater responsibility they will have for directing their own path at DePauw.

"Our hope and experience has shown us that most of the first-years have transitioned well by the end of their first semester, but we want to continue to give them support," she says.

"I still keep up with some of the students I've mentored through the years, and it's just great to know that I was able to be a part of their DePauw experience," Welch says. "This is a great place, and that's what we want to communicate in the program."

The mentor application process begins in February. Students are required to attend one of the following information sessions as part of the application process: Jan. 19 at 4 p.m., Jan. 25 at 3 p.m., Feb. 1 at 4 p.m., or Feb. 3 at 11:45 a.m.

All sessions will be held in the Julian Science and Math Center, room 147. Applications will be available at the information sessions.







Back