Lizzie Wen '13
January 10, 2011

For most people, dealing with stage fright is as easy as avoiding stages. And let's face it; most of us are pretty good at that. But for sophomore piano major Shanyun "Lizzie" Wen (left), avoiding the limelight just isn't an option.
Wen started playing piano as a five year-old in Kunming, southwestern China's City of Eternal Spring. As a high school junior, her family sent her to Chicago for an American education. She says her time in the Windy City prepared her for Indiana's winters, but not for the anxiety she felt while performing in front of others at DePauw's School of Music.
Losing sleep and feeling error-prone – her small hands uncomfortably span an octave on the keys – she looked for guidance from other musicians. Several of them recommended yoga.
She followed the advice and joined a yoga class offered as part of the University's wellness programs. After only a few months of practice, the results began to show.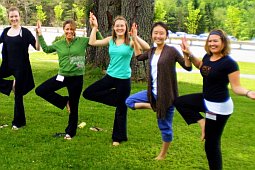 "Yoga helped me stay in the present moment, not get caught up in what happened in the past or what will happen in the future," Wen says. "Now, when I'm on stage, I can focus better on the music I'm creating with the breathing techniques from yoga, instead of thinking about a mistake I made a few seconds ago, or a hard passage coming up."
Impressed with how much yoga had helped her musicianship, Wen dove headfirst into training. Last summer, she traveled to the famed Kripalu Center for Yoga & Health in Stockbridge, Mass., for 200 hours of intense training. She returned to DePauw with a yoga instructor's certification and a better appreciation for her own ability as a pianist.
"I can hear the nuances in the sound better when I'm practicing." Wen says. "It was surprising because my ears never heard music in such a delicate way before. I felt that was the right way to learn music because my piano teacher, [Associate Professor of Music ] May Phang, always told me that music is beyond the right notes."
Now able to teach yoga, Wen is trying to share its hidden benefits with other students in the School of Music. During spring semester, she plans to host yoga workshops that teach breathing exercises to help with anxiety and simple movements to relieve the physical tension of long hours of practice.
Wen thinks that average college students – musicians or not – stand to benefit more than they realize by slowing down. Last spring, Wen participated in Phi Kappa Psi fraternity's first annual Philanthropoga, a yoga fundraising event that took place in front of East College.
"People here can be so busy with their studies and social life that they never learn to relax," Wen says. "Why not spend an hour relaxing? My friend said she never noticed how much tension she had in her body until after it was gone after an hour of yoga."
Those who take up Wen on her workshops will have something else to be thankful for: Wen plans to be on campus for an extra year. She hopes to complete the five-year double degree program offered jointly by the School of Music and College of Liberal Arts, with a second major in classical studies.
"I like that the School of Music is not a conservatory," Wen says. "It gives us the chance to learn about music, but also to get a regular liberal arts education, if that's something we want, too."
Back