Profs. Catherine Fruhan and Smita Rahman Receive Exemplary Teacher Award
January 11, 2011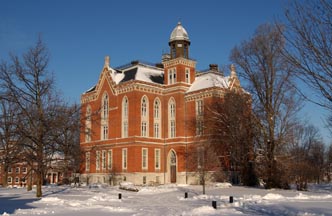 January 11, 2011, Greencastle, Ind. — Catherine Fruhan, professor of art, and Smita Rahman, assistant professor of political science, are the recipients of the Exemplary Teacher Award for 2010-11. Given jointly by DePauw University and the General Board of Higher Education of the United Methodist Church, the award recognizes faculty members who exemplify excellence in teaching, civility and concern for students and colleagues, commitment to value-centered education, and service to students, the institution and the community.
A total of 14 professors at United Methodist-related schools, colleges, and universities around the nation have been honored with the Exemplary Teacher Award for the current academic year. The recipients of the annual award receive a certificate of appreciation and a cash award.
"While the amount of this award is modest, it does manifest in a tangible way the profound respect that The United Methodist Church has for the teaching-learning process and it does, therefore, recognize particularly talented professors," states Gerald D. Lord, associate general secretary of GBHEM's division of higher education. "The General Board of Higher Education and Ministry is pleased to be the vehicle for expressing this appreciation on behalf of The United Methodist Church," adds Dr. Lord.
At DePauw, the recognition is supported by the George and Virginia Crane Distinguished Teaching Award Fund.
Read more by clicking here.
Previous recipients of the Exemplary Teacher Award are:
1992-93: Tom Chiarella
1993-94: Andrea Sununu
1997-98: Valarie Ziegler
1998-99: Craig Paré
1999-2000: John Dittmer
2000-01: Terri Bonebright
2001-02: Carl Singer
2002-03: David Field
2003-04: Jackie Roberts
2004-05: Robert Hershberger and Tamara Beauboeuf
2005-06: Anne Harris and John Schlotterbeck
2006-07: Wayne Glausser
2007-08: Kerry Pannell and Pamela Propsom
2008-09: Matthew Oware and Barbara Steinson
2009-10: Jennifer Adams, Dana Dudle and Gregory Schwipps
DePauw was founded in 1837 by the United Methodist Church. Learn more here.
Back