School of Rock
January 17, 2011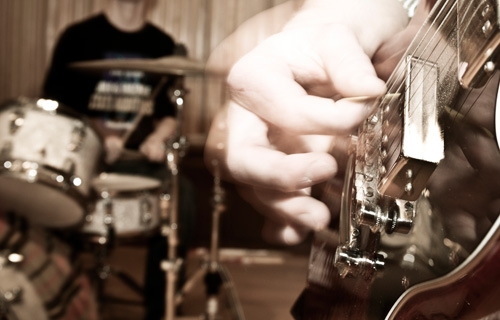 One of the new Winter Term courses offered in January – The Rock 'n' Roll Experience – was unique in that it culminated with a rock concert on Jan. 26.

The performers were students in the class. As part of the course requirement, they formed bands with names like Corbin Dallas Multipass and Public Safety. Each played an original composition as well as a cover.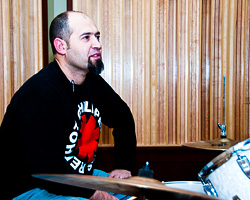 Richard "Rich" C. Martoglio (right), assistant professor of chemistry and biochemistry and director of the Quantitative Reasoning Center, designed the course. Students spend the morning in class examining and discussing key figures and elements that influenced the development and progression of rock 'n' roll. They listen to recordings from sub-genres, view documentaries of the rock 'n' roll movement and artists, as well as view performances.

In the afternoon, they rock out – in the bands they formed – preparing for their big night, the final performance. Students will also have the opportunity to work with Recording Arts Specialist Matthew "Matt" G. Champagne to record one of their songs.

"We have bands made up of students with varying levels of ability," Martoglio says. "Everyone in the class either plays an instrument or sings. However, there are no requirements in terms of ability. You don't have to be a virtuoso – you just have to be creative, have fun and make music.

"Music speaks to us on so many different levels. I wanted to provide an outlet for students because I think there are many of them on campus who really want to play music. However, it's hard to get together to find a space and a time," Martoglio says.

Derek J. Davis '13 plays bass guitar in two of the bands. "The jam sessions in the afternoons are going great. It's a total blast. I've always wanted to be in a band setting. I'm very passionate about music and really enjoy talking about it and playing it," he says.

"We're learning a lot about the history of rock music – how it all started and how those early pioneers of rock have influenced almost every artist after them," Davis says.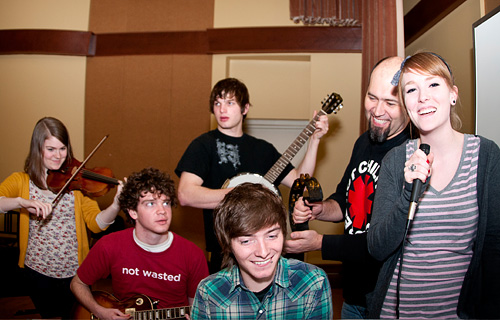 "It's cool to see the patterns of how music becomes popular," Sean T. Kent '13 says. "It helps you see the trends. Today we learned about the British invasion and Beatles – tweed suits and black-and-white television."

Kent, a self-taught electric guitar player, loves learning about the different aspects of music and music history. "A highlight is not the fact that we can play music and jam, but the fact that we can do it – without any ego getting in the way," he says. "It's been cohesive and a lot of fun."

Jonathan "Jon" A. Saddler '13 started singing in a choir when he was eight years old and says that rock is a new type of music for him. He sings vocals in the newly formed classic rock/blues band Public Safety. "It's been great getting to know other students' talents and trying to mesh them all together into one sound," he says.

"We've only been practicing for two weeks. So, this shows you just how quickly something can happen," Saddler says.


Martoglio admits that they're just scratching the surface of what encompasses the rock 'n' roll music phenomenon. "We've been discussing what we perceive rock music to be and what is it about this music that appeals to us so much."

Guest speakers to the class included Ronald "Ron" L. Dye, associate professor of English and communication and theatre, and coordinator of the Performing Arts Series. Dye talked to the students about legendary rock star Bob Dylan.

Martoglio also invited Veronica J. Pejril to the class to talk about song structure and composition. Pejril is an instructional technologist, coordinator of the Music Instructional Technology Center and part-time instructor of music.
Winter Term takes place each January between fall and spring semesters. It reflects DePauw's serious commitment to non-traditional, experiential learning. Winter Term is a time of adventurous, intellectual exploration. Each year, DePauw professors and staff members offer a plethora of incredible opportunities for students. Click here to see a comprehensive list of Winter Term 2011 on-campus courses and here for off-campus study and service projects.



Back