Betas Give Back
January 24, 2011

The iconic Greek houses fringing campus are testimony to the prominence of Greek life at DePauw, where more than 60 percent of students belong to a fraternity or sorority. But even without a stone castle to call their own, the sisters of Omega Phi Beta stand out. That's no small accomplishment, considering there are only three of them.

If not for the sign marking their unassuming home behind Roy O. West Library, juniors Michelina Ferrara, Yanina Guevara and Jasmine Martinez (pictured above with alumna Stephanie A. Rivera '10) might be mistaken for roommates.
Being a Beta, however, means more than sharing a place with friends. They are tireless organizers of events on campus and in the community, often announced with signage as bold as their efforts to bring awareness to violence against women.

"I always say that Omega Phi Beta is my platform for change on campus," says Guevara, president of the Psi Chapter at DePauw.

The DePauw chapter has remained small during its five years on campus – partly due to newness, mostly by design. Its founders wanted a close-knit group of women who would each be an outspoken advocate for women's issues. Rather than actively recruiting, the sorority members rely on students who share their passion to seek them out.

"Our philanthropy comes first," Martinez says. "It's something that we advocate for, even in our personal lives."
Guevara, Ferrara and Martinez joined the sorority together. At the time, Omega Phi Beta had fewer sisters at DePauw – two – than Greek letters. Nevertheless, the sorority's efforts were noticed.

"I felt that [the two sisters] were doing the work of 10 people," Martinez remembers. "They were doing outstanding work dealing with violence against women, at DePauw and in Greencastle. When I reached out to them, I just wanted to get to know them on a personal level. I had no intention of joining."

Martinez not only became a member, but she also serves as treasurer and secretary. In a chapter of its size, there aren't many people to occupy the various leadership roles, but the work of running a sorority still needs to be done.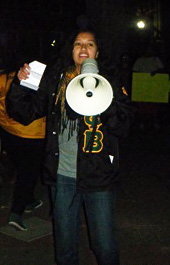 "It can be daunting having only three members to do an exorbitant amount of work," says Ferrara, the chapter's vice president. "But that's not how we view it. We have sisters across the country who we can reach out to for help."

Omega Phi Beta's membership – both past and present – spans the country. And as a service-oriented organization, there are strong ties between sisters who live states apart.

The Betas played a key role in organizing Stopping Traffick!, a three-day event last September that raised awareness of the prevalence of human trafficking worldwide, Psi Chapter's official cause. Among the visiting speakers were the founders of Centurion and Doctors At War, two of the world's foremost trafficking awareness organizations. Having never planned an event of its magnitude, they turned to the national network of Betas for advice.

"When we were planning Stopping Traffick!, we posted some questions on the national sorority's listserv," Ferrara says. "We got responses from everybody from social workers to Ph.D. candidates. There was an army of women who we could call on for help, and we never had to explain the importance of the issue – they share our interests."

The event also shined a light on the outreach done by the tiny DePauw chapter. Recognizing their efforts, including an annual banquet fundraiser and partnerships with community groups in Greencastle, Omega Phi Beta Sorority held its 2010 national convention, "Betas Give Back," at DePauw.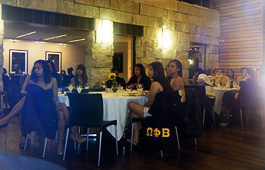 "For a day, it seemed like everybody on campus was wearing our letters," Ferrara says. "It made us so proud."

The three current sisters graduate next year, leaving Psi Chapter's future in the hands of an entirely new group. Ferrara says she often thinks about the four DePauw women who started the country's first sorority, Kappa Alpha Theta, in 1870. Since then, the Thetas have grown to be one of the largest Greek organizations in the country. She is quick to add that, nearly 140 years later, another group of four women brought the Betas to DePauw.
A coincidence? Probably. But she has good reason to be optimistic.
Back