Sundance Film Festival
February 3, 2011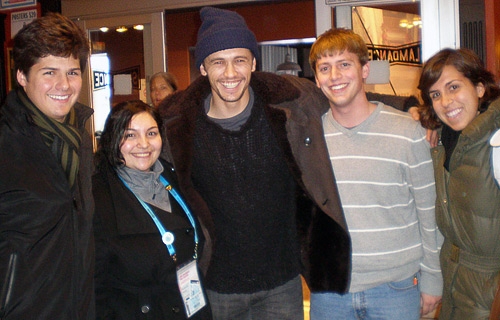 A group of 20 students recently returned from a Winter Term trip to the Sundance and Slamdance Film Festivals in Park City, Utah, where they had the chance to see more than a dozen film premieres, attend panel discussions; interview directors, film producers, and actors; and participate in mini-internships.

The trip was organized and led by Peter A. Graham, associate professor of English and associate chair of the English Department, and Elizabeth "Lili" D. Wright, associate professor of English. The DePauw students began their Winter Term on campus in January by studying the history of independent film, watching past Sundance and Slamdance films, and learning cinematic vocabulary that enabled them to better discuss and write about film.

The Sundance Film Festival is the largest independent film festival in the United States and premieres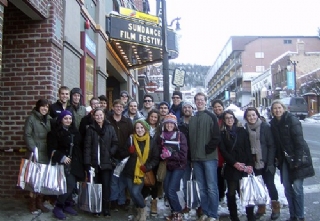 200 films – including features, dramas, documentaries, foreign films and shorts – chosen from more than 8,000 entries. The Slamdance Film Festival is also hosted in Park City, although much smaller – held in one venue in Park City – is advertised as "a film festival for filmmakers."
"What makes Sundance such a great experience for students is that they get a chance to see movies they would probably otherwise miss: foreign films, documentary films, films with small budgets and quirky sensibilities," Wright says. "It shows students the incredible diversity of the art form, and how so many filmmakers from all over the world are willing to make personal and financial sacrifices to bring their vision to the big screen."

At the festivals, students had many opportunities to meet people who work in the independent film industry. Graham and Wright invited several of their friends who work in the business to talk to students. Peter Golub, composer-in-residence at Sundance, who has composed music for many notable films, including Frozen River and The Laramie Project, met the students. This year Golub wrote the music for These Amazing Shadows, a documentary that relates the history and importance of the National Film Registry. Students watched the film at Sundance and then had the opportunity to ask Golub about his work.

Tom Hall, head programmer at the Sarasota Film Festival, also met with students and discussed the process of selecting films for a film festival. Salt Lake Tribune head film critic Sean Means shared his experiences as a writer as well as strategies for seeing the best films at the festival.

Perhaps the most famous filmmaker to speak with the students was Academy Award-winning documentary film director and producer Alex Gibney (Enron: The Smartest Guys in the Room, Client 9: The Rise and Fall of Eliot Spitzer). He was at Sundance to premiere his latest documentary, Magic Trip, which is based on an LSD-inspired road trip by One Flew Over the Cuckoo's Nest author Ken Kesey. DePauw students saw Magic Trip and had the opportunity to meet and question Gibney about his work. (Gibney below with DePauw students, and Profs. Graham and Wright).
"At first, students are wary about interviewing filmmakers and writing a profile about them, but once they get there and see how accessible these filmmakers are, they feel more comfortable," Graham says. "Also, after every film, the director and stars are on stage for a Q&A session. It's an amazing experience for students."

Gerard J. Pannekoek '11 introduced himself to Phil Johnston, the writer of the new comedy Cedar Rapids, starring Ed Helms and John C. Reilly. "I approached him after the premier, told him I liked his film and asked if I could interview him for a profile – a required assignment for the Winter Term – and he agreed.

"The next day, we met and talked for more than an hour about writing and his career. It was less of an interview and more of a conversation. He was really cool and easy to talk to – not overly charismatic or goofy like one might expect. He also gave me his e-mail address and told me to keep in touch.

"The premieres were great because most of the stars were present, and they hosted a Q&A session after the film. At the premiere of Margin Call, Kevin Spacey, Demi Moore, Stanley Tucci, Zachary Quinto, Paul Bettany and Jeremy Irons were all on stage talking about their movie. It was incredible," Pannekoek says. "There was a lot of energy and excitement in the audience because they were the first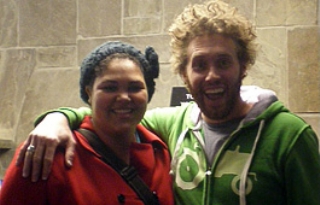 ones to see the film."
(Lauren E. Clark '11 and actor T.J. Miller at right)
Students also interned at Slamdance. "It's more accessible in many ways," Graham says. "Since students have internships there, they see firsthand how a film festival works and how it's operated."

Robert "Rob" S. Weidner '14, who saw 18 films in seven days, says, "The Slamdance internship was very cool. It was a great opportunity to meet the filmmakers." Weidner – a filmmaker himself – produced Rise Above the Storm. It premiered in 2009 at the South Dakota Film Festival – alongside a Ken Burns documentary.

"It was so surreal meeting celebrities," Weidner says. "We were out to dinner and Kevin Sorbo, Hercules in Hercules: The Legendary Journeys, sat right next to us. It was hard to walk down the street because you always kept your eyes open for famous directors or actors. It was an unbelievable first Winter Term, and I would definitely recommend it," Weidner says.

Meghan A. Shearer'13 interviewed producer Kevin Smith, whose movie Red State premiered at Sundance. "I spoke to him after his film, and he was incredibly friendly and willing to answer questions. It was nice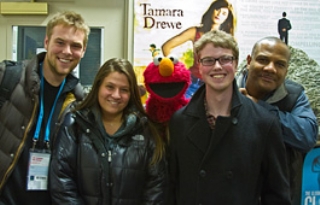 to meet someone who truly appreciates and respects his fans.

"I think that everyone should have the chance to attend a movie premiere – to see a movie with the cast and crew present. The atmosphere is incredibly exciting and celebratory," Shearer says.
(Students with Elmo and Elmo puppeteer Kevin Clash above)
It was Graham's and Wright's seventh year teaching the Winter Term course. Its popularity coincides with the successful development of DePauw's Film Studies Program, which Graham helped to establish in spring 2001.

Winter Term takes place each January between fall and spring semesters. It reflects DePauw's serious commitment to non-traditional, experiential learning. Winter Term is a time of adventurous, intellectual exploration in an atmosphere with a reduced emphasis on grades.
Back