J. Adam Hawkins '11
February 4, 2011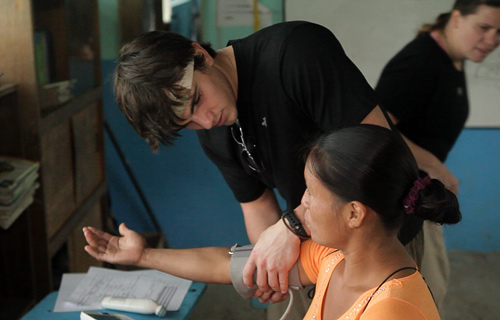 Four years ago, J. Adam Hawkins '11 knew he wanted to go to college to play football and get a good education. The Tulsa, Okla., native had narrowed his choices to Johns Hopkins University and DePauw before a trip to Greencastle sealed the deal.
"When I visited DePauw, people were a lot like they are in Oklahoma – laid-back and nice – and so I kind of fell in love with this place," Hawkins says. "It seemed like a place where I could sink my teeth into anything I wanted to do."
The community that shaped his choice to become a Tiger also set him on a new path he's still following.
As a freshman, Hawkins joined the football team in its annual participation in the Special Olympics. The service work gave him a sense of satisfaction that he had not experienced before, and volunteering quickly became a habit. He has since been a regular volunteer at the A-Way Home Shelter in Greencastle and served as community service chair for his fraternity, Alpha Tau Omega, where he is team captain for the Putnam County Relay for Life.
During Winter Term 2011, Hawkins joined a group of students, professors and medical professionals who traveled to Ecuador as part of a medical brigade from Timmy Foundation, an Indianapolis-based nonprofit that provides access to education and healthcare in Central America and South America. Although thousands of miles away, home was never far away – Hawkins' mother, a nurse practitioner, traveled with the group, as well. More than just a service trip, Ecuador was the latest a in a series of professional trial runs for Hawkins, who hopes to practice medicine.
"The doctors I've spoken with stress that you have to be 100 percent sure that you want to join the profession because it's such a long, hard road," Hawkins says. "I've shadowed in an emergency room and volunteered in shelters to see if I could handle the side of being a doctor that isn't on Grey's Anatomy. There were some things that I wasn't prepared for, but I found myself thinking that these were people whom I wanted to be able to help."
If Hawkins entered his senior year with any doubts about his future, the Winter Term trip to Ecuador put them behind him for good.
"I feel an intense calling to global health," Hawkins says. "I hope to someday start an organization that not only serves vulnerable people across the world, but also provides undergraduate and high school students the opportunity to experience global health on such a personal level. Without the Timmy Foundation and Winter Term opportunity, I don't know that I would have realized how important this is to me."
At his free safety position on the gridiron, Hawkins' job was to diagnose the play and decide how to react, often in just a fraction of a second. And as the last line of defense, any misstep is guaranteed to be noticed. For doctors, the stakes are even higher.
But Hawkins has thrived under pressure, both on and off the field. He is member of Chi Alpha Sigma, the National College Athlete Honor Society, and was named to the Southern Collegiate Athletic Conference Academic Honor Roll. His drive to be the best, combined with his passion for helping those in need, is a prescription for success.
"Football taught me that I could be the best by being the hardest worker," Hawkins says. "I've tried to apply the same thing to the classroom and in the community. It's part of my competitiveness. At the end of the day, I'll always know that I did everything I could to be the best that I can be."
Back