Audra Davis '94 Among Nashville, TN's '40 Under Forty'
December 31, 2010
December 31, 2010, Greencastle, Ind. — "The global economic climate has created a work force that is worried about its ability to maintain employment," says Audra Davis, founder of the consulting firm Davis & Associates. The 1994 DePauw University is among Nashville, Tennessee's "40 Under Forty," spotlighted in the Nashville Business Journal. (top photo: James Yates; below right: rolandsphotography.com)
Davis' firm offers career coaching and human resources services to businesses, nonprofits and government clients. In today's climate, she states, "employees are frustrated because they are unfulfilled in their positions and see few viable options. Most of my coaching clients come to me feeling as though their careers are deficient in some way. I am challenged to meet them where they are, yet help them see their potential."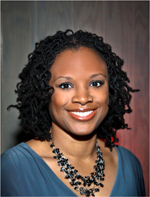 A psychology major at DePauw, Audra (Keitt) Davis went on to earn master's and doctoral degrees in organizational psychology from Rutgers University. An organizational psychologist, she founded her consulting firm with her husband, Matthew.
The Journal asks Davis about a risk she's taken, and she tells the publication how a DePauw experience led to a great adventure. "After finishing a semester in England in college [studying psychology, accounting and Latin at the University of Exeter], I backpacked across Europe for a month with a friend," she recalls. "We had no cell phones, no plans, no itinerary and no reservations to speak of -- just a map and a train pass."
She adds, "In addition to my study abroad experience, I believe that my two internships most

prepared me for my life's work. I spent a Winter Term working for an organizational consultant in Pensacola, Fla., and worked one summer as a marketing assistant at IBM in Cincinnati. Both internships allowed me to do 'real work' with appropriate support and guidance."
Access the profile at the Business Journal's website. You'll find a complete list of the 2010 "40 Under Forty" here.
Back