Juniors Katie Sink, Liz Massoth and Arielle Brosman
March 7, 2011

DePauw juniors Kathleen "Katie" E. Sink, Elizabeth "Liz" R. Massoth and Arielle E. Brosman designed their own Winter Term experience this year, which took them to two nonprofit organizations in New York City – Women in Need and Women for Afghan Women.

Their faculty sponsor, Andrew M. Hayes, associate professor of communication and theatre, director of theatre and pre-law adviser explains, "Their projects had various communication focuses, but at the heart of each of them was volunteerism. The stories and reflections in their journals show how transformational our Winter Term experiential opportunities can be."

"Our initial proposals changed a lot," Massoth says. "We went into the experience expecting for our eyes to be opened, and they were – in so many unexpected and wonderful ways."

"We chose New York City because it's a stark contrast to the places where we grew up," Brosman says. "We decided to do something that we're all interested in – advocating rights for women." The three contacted organizations last fall and quickly received responses from two of them.


The Women in Need website states, " Since 1983, Women in Need has provided New York City's homeless women and their families with safe, clean housing; support and the skills to become self-reliant."

Women for Afghan Women is a New York- based grassroots organization concerned with human rights and women's rights in Afghanistan. Learn more by visiting its website by clicking here.

The three traveled all around the city doing volunteer work for both organizations. A majority of their work was administrative. "At Women in Need, we worked for several days putting donated items in boxes, labeling and taking inventory," Sink says. "It was hard work, but they really needed our help. We went into our Winter Term experience hoping to help in a lot of different areas and wanting to have hands-on experiences. Even though it wasn't what we were expecting, we were helping out where they needed us most."

So, the students were pleased when they were introduced to a family needing help. Each morning between 7 and 9:15 a.m., the three babysat two young children (both girls). "We really bonded with the girls," Brosman says. "Their mom was in long term health care, and the family needed extra help. It was very rewarding."

"It was fate that the family needed us. So, our hands-on work with them complemented our administrative work," Massoth says.

Brosman went to New York with the intention of studying how art could be used as a creative outlet for the women she hoped to meet. "It ended up being a lot more difficult to study, but during a Saturday girls leadership program at Women for Afghan Women, the benefits of art as an outlet were really apparent," she says.
The girls were given a picture of the TIME magazine cover image of Aisha (below), the 18-year-old Afghan woman who was sentenced by a Taliban commander to have her nose and ears cut off for fleeing abusive in-laws.


"We talked about her life and how it had been changed by that photograph," Brosman says. "So, the girls drew a picture of her in the way that they perceived her. The discussions were based on using art as an outlet or as a form of conversation."

Brosman, an English writing major and theatre minor, explains, "As a project, I was looking at smaller moments and writing creative pieces about them – using them as an art form myself. That was helpful, too, because I had to look at things differently."

Massoth had an experience related to Aisha, too. One day, while working at Women for Afghan Women, she saw a woman come in and thought she recognized her. "Her nose and ears had been cut off, and I automatically recognized that type of injury, but I didn't want to make any assumptions. I passed her in the hallway a couple times, and we smiled at each other. A little later, another woman working there asked, 'Have you met Aisha?'

"I had studied and discussed her in class and have been passionate about her. I knew I had recognized her. I didn't get to speak to Aisha, but I shook her hand. Just to be in her presence and all that she stands for – strength for all women – I was very excited. It was an amazing experience," Massoth says.

"Initially, when we stepped into the house where Women for Afghan Women is located, it was really crazy," Massoth says. "We sat on the floor and rummaged through papers. It really appeared disorganized, but then to see that there was something much greater going on was really rewarding, and it kept us excited about going back."

At Women for Afghan Women, the three were asked to enter donation amounts into the computer. We also had to address thank-you letters to those donors," Brosman says. "The letter explained where the money was going – to Aisha's Foundation. She came to the United States to help Afghan women who needed facial reconstruction and to be an advocate for the cause."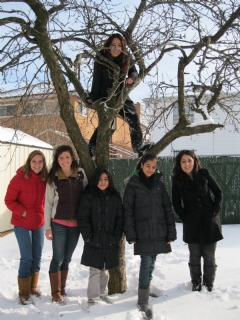 "We went into this experience thinking we'd have more hands on work and reinforce our theses, but we were given an experience that made us change our theses and realize a different aspect of volunteer work," Massoth says.

"Every day, we saw the deficiencies within the system and understood why things weren't as we had expected. We found more of an appreciation for the both organizations and for the work they do.

"The workers who we met are very dedicated, and it takes a very special type of person to be so committed with minimal pay and the circumstances that they have to deal with. It was very rewarding to able to help out in any way that we could," Massoth says.

"We went to New York with good intentions but volunteering every day became something that we really wanted to do. We had responsibilities to the organizations and saw the impact we were making in many different ways," Brosman says.

"We had little moments throughout the experience that reminded us what we were doing, and we met some really awesome people," Sink says.


Back