Chamber of Commerce's Lifetime Achievement Award to Bev Patterson Frier '52
April 18, 2011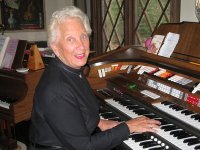 April 18, 2011, Greencastle, Ind. — Bev Patterson Frier, a businesswoman and 1952 graduate of DePauw University, will receive the Naperville (Illinois) Area Chamber of Commerce's Lifetime Achievement Award. The honor is given each year to one business and civic leader for their commitment to Naperville's business community, excellence in business stewardship, contributions to the region's quality of life, and leadership in support of economic progress. Frier will be recognized May 13 at an awards dinner.
"We often say Naperville is a community made up of ordinary people who do extraordinary things," says John Schmitt, president and CEO of the Chamber. "Bev is an exemplary representation of the great business and civic leaders we have in our community."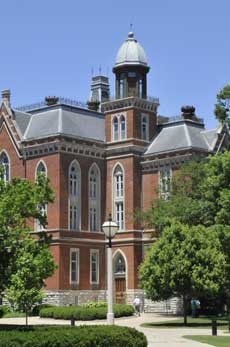 A music major at DePauw, Beverly (Grant) Patterson Frier started Fabric Inn in 1966 in Naperville and later added a second store in Elgin, Illinois. Just one year later, she opened her first music store, Bev Patterson Piano & Organ Co. Frier opened three additional stores in 1973, 1974 and 1975 in the Chicago suburbs. During this time, Frier became the first woman ever nominated for a seat on the board of directors of the National Association of Music Merchants.
Frier sold Bev Patterson Piano & Organ Co. in 1982 but retained ownership of the properties in Naperville and Addison and rented them out to business tenants. Frier continued to rent pianos on her own out of her home until 1995.
In 1999, Frier spearheaded a still-ongoing endeavor to build the Omnia Performing Arts & Cultural Center in downtown Naperville. Omnia is a nonprofit organization focused on revitalizing the north side of downtown Naperville's train station. Frier is a founding member of the organization.
In addition to her contributions to Naperville's business community, Frier has always donated a significant amount of her time to various area clubs and organizations. She been a member of the Naperville Chamber of Commerce since 1966 and has served several stints on the Chamber board. She is also a
founding member of both the DuPage Investment Club and the Center for Lifelong Learning in Naperville. Frier serves on the senior advisory board under Illinois state representative Darlene Senger and the board of Naperville Elderly Homes Inc., Martin Manor. Other affiliations include the Interlochen Center for the Arts in Interlochen, Michigan, and The Ninety-Nines Inc., an international organization of women pilots.
She states, "Knowing those who have been so honored before me, I can't imagine I fit in that same category. I am just an ordinary person and feel there are so many people in this town who are worthy of this recognition. Thank you."
Back