Good as Goldwater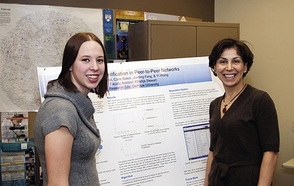 April 29, 2011
The Barry M. Goldwater Scholarship and Excellence in Education Program recently announced its 2011 Scholars, and to no one's surprise in DePauw's Computer Science Department, Catherine "Catie" M. Baker '12 is a recipient of the prestigious award. (Baker and Prof. Khadija Stewart pictured above)

The Goldwater Scholarship is the premiere undergraduate science and mathematics award in the United States. The scholarship program was designed to foster and encourage outstanding students to pursue careers in the fields of mathematics, the natural sciences and engineering. Baker is DePauw's fourth winner in three years joining Kathleen F. Mittendorf '10, Alexander P. Breitinger '09 and Nichole R. Stone '09.

Khadija J. Stewart, assistant professor of computer science, is the Goldwater faculty adviser. "I'm really proud of Catie. Not only is the award extremely important to Catie, it's important to DePauw – to be able to compete with other schools that receive it. It's thanks to Catie that we received one this year."

"I started the application process in the fall and submitted it in January. After that, it was a waiting game, and I was really excited when I heard – both for myself and for DePauw," Baker says. "It's a huge honor – especially since only five computer science majors received it."

Baker, a computer science and mathematics double major, also recently received DePauw's Wiley Condit Computer Science Award for an outstanding junior in the department. This spring she was nominated to Phi Beta Kappa and was accepted into Mortar Board, an honor society based on scholarship, leadership and service.

She's the head tutor in the computer science lab and holds office hours. Baker is a first-year mentor, president of Delta Gamma sorority and co-chair of Women in Computer Science.

While she plans to attend graduate school in another year, this summer she's going to Washington, D.C., as recipient of a summer undergraduate research fellowship from the National Institute of Standards and Technology – one of the top laboratories in the country. "I'll work on circuit synthesis for cryptographic application, and though I haven't heard a lot about this topic, I'm looking forward to learning something new," she says.

Before coming to DePauw, Baker hadn't taken a computer science class. "In high school, I said, 'No way am I going to take a computer science course,' because I had guy friends who would say, 'I can already do this – I already know it,' and I knew nothing. Then I came to DePauw, where everyone starts at the beginning, and I decided to give it a shot. I realized that computer science was it for me.
"I love logic – being able to apply different rules in different ways to get results. I love problem solving, which is a lot of what computer science is," Baker says. "I know what I want to do and what parts I need, but how do I put it all together to make the correct outcome. I like puzzles and figuring out how things work."

"Catie is an outstanding student – extremely quick in thinking about solutions to problems and very hard working," Stewart says. "She competes and kills the competition. It could be because of her involvement in sports. She's a swimmer, and she's been competing all her life. She's not inhibited by a challenge, and she's not afraid of computer science."

Baker was the only woman on the DePauw swimming team who qualified for nationals this spring. The NCAA Division III Swimming and Diving Championships were held at the University of Tennessee, and Baker earned honorable mention All-America honors after finishing ninth in the 200-yard breaststroke. She also earned All-America honors in 100-yard breaststroke with an eighth-place finish, and she set two new school records and conference records.

"It was great to come to DePauw and be a member of the swim team," Baker says. "The team has been a really good place for me to grow and develop as a person. The coaches and training staff have been supportive beyond swimming, particularly in my academic endeavors."

Baker says that when she's busy, she's more productive. "I feel better, and the homework comes easier. So, I really do thrive on keeping my schedule busy. It's a balancing act. It's a matter of putting things into perspective. The hardest thing for me has been to accept that sometimes perfection is not possible, and you just do what you can. That's probably one of the biggest changes I've made since I've been at DePauw – putting things in perspective and learning how to prioritize."

"If you look at Catie, she's a normal young woman," Stewart says. "She gets along with other students, but she is very driven. That's something that you either have or you don't. Catie came to DePauw this way – with the ability to excel – and she found a good place here to grow."



Back