Language of Angels
May 3, 2011

The DePauw Theatre student production of Language of Angels opens Friday, May 6 at 7:30 p.m. in Moore Theatre at the Judson and Joyce Green Center for the Performing Arts. It is co-directed by seniors Laura M. Durham and Emily M. Terrell and produced by student theatre organization Alpha Psi Omega.

Written by Naomi Iizuka, the play is a trio of interwoven ghost stories set in the cave country of rural North Carolina. After a young girl is lost in a cave near the edge of town, there is a Rashomon-like investigation of her disappearance and an examination of the fate of those who survive her.

The play's website states, "With evocative poetry and striking images, Language of Angels is a deeply human story of working class youth bound by poverty and pushed to the limits of friendship as they deal with grief and loss in their lives."

"We chose this play because we were looking for one that would be contemporary and also give us the ability to be creative with staging and aesthetics," Terrell says. Durham adds, "Not only were we looking for something creatively open, but the text is really full and rich. We hope that the audience comes to the show with an open mind – not expecting a chronological narrative. Iizuka plays with the way stories are told. If you know that beforehand, the play is a little easier to accept and understand."


Though the production is completely student driven – with more than 25 students involved – Durham and Terrell acknowledge the support they've received from the theatre department. "Professor Andrew Hayes is teaching us how to use a gun as a prop and crash pads. Professor Timm is helping us with props and teaching our directing course. Professor Good is our adviser and has graciously been on call for us for more than a month," Durham says.

[Andrew M. Hayes is associate professor of communication and theatre, director of theatre and pre-law adviser. Steven R. Timm is professor of communication and theatre and chair of the department. Timothy A. Good is associate professor of communication and theatre.]

Terrell, a theatre major and history minor, says she practically started auditioning for plays the moment she arrived on campus and has been involved ever since. She stage managed a play, wrote a recent theatre production, At the Diner, and is now directing. She has been accepted to graduate school this fall to continue studying her passion – acting.

Durham, a communication and English writing double major, has also been involved in theatre from her first year. She produced a play during the student-run Playwrights' Festival, has stage managed, and also assisted Professor Timm in directing Terrell's play, At the Diner.

"I've been very lucky to be involved in a wealth of different areas of theatre at DePauw. It's been a great experience," Durham says. Hoping to continue her work in the field, she has applied to theatres throughout the United States for positions as an artistic administrator or casting director.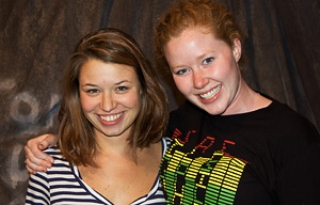 Terrell and Durham (at left) have shared their creative energies before. During their sophomore year, they co-founded Insomniac Theatre, which is a 24-hour theater event. "It starts with the group dividing itself into writers, directors and actors. The actors audition for the directors and writers, the directors pick their casts, and the writers write – all night," Durham explains. "The plays are submitted by 8 a.m., and the actors and directors get their scripts and rehearse all day. The performance is that night, and the idea is to make sure the entire event doesn't go over 24 hours. It's always really fun, and we have more than 30 people participate each year."

This week Durham and Terrell are very excited to celebrate their college careers by sharing the experience of co-directing Language of Angels. "We have a great cast and crew – all very talented," Terrell says. "I think everyone's talents are really showcased in this production. We have a nice mix of DePauw actors."

Durham adds, "Emily and I have really been lucky in our production crew and our cast. They are so good at what they do. We want it to be a good experience for them, and it's been fun to see people to take ownership of their roles.

"There are some students who will only audition for a student production as opposed to a main stage show because they feel a little intimidated," Durham says. "We have two new actors in our cast who have never been in a show at DePauw before, which is really cool – to see fresh faces and incorporate newer actors."

Members of the production crew are new to their positions as well. "Will Freske '13 is stage managing for the first time," Terrell says. "He's been on board from the beginning and has blossomed into an amazing organizer for us. We have him to thank for everything getting done."

Kristopher "Kris" D. Schmelzer '12 had never been involved in theatre before coming to DePauw but has taken advantage of the opportunities. He's been a stage manager and produced Playwrights' Festival, but he's found his niche with his current role as co-manager of public relations for Language of Angels.

While studying abroad last fall in London, Schmelzer took photography classes for his studio art major and has been responsible for the photography, including headshots and promotional photos for this production. "It's been great to be involved in Language of Angels. I'm taking my organizational and artistic skills and combining them for this position. It's been a lot of fun," Schmelzer says.

Language of Angels opens Friday, May 6, at 7:30 p.m. in Moore Theatre at the Judson and Joyce Green Center for the Performing Arts. Performances will continue Saturday, May 7, at 7:30 p.m. and Sunday, May 8, at 5:00 p.m. Tickets are available for purchase at the door for $3 or can be reserved by e-mailing Laura Durham.

Language of Angels may not be suitable for younger audiences.

To learn more about arts at DePauw, click here.
Back