Dynamic Duo
July 13, 2011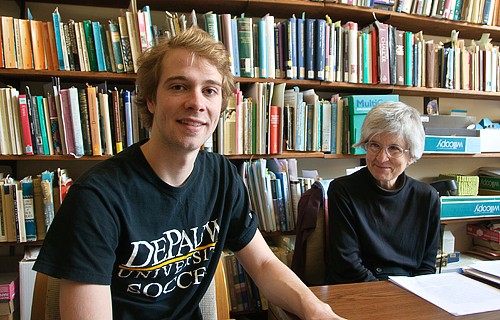 The word that best describes the Davies-Jackson Scholarship? Selective. Usually only one student receives the award, a full ride to St. John's College at the University of Cambridge, but there is no yearly quota to fill. Sometimes two recipients are merited, and sometimes the selection committee finds none. So, when you're a college freshman and somebody suggests you apply for this award – a process that will take years of dedicated study and months spent writing and rewriting a personal statement – you may just decide that there are other, more productive ways to spend your time.
Stephen K. Worden '11 stood at the foot of that mountain not long after arriving at DePauw, when Andrea Sununu, the professor of English who led his first-year Honor Scholar seminar, told him about the scholarship. He fit all the requirements, she said. Assuming he graduated, he would be among the first in his family to do so, and his academic potential stood out even then.
"Stephen emerged with the highest grade in the class, and he was very serious from the start," Sununu remembers. "He clearly had the kind of sophistication that was rather unusual for someone in the first semester of college."
Sununu, who became Worden's adviser, never let him forget the Davies-Jackson Scholarship. Three years later, her persistence paid off. Worden received word in January that he would be this year's recipient of the graduate scholarship. (Read more...)
"It's hard for me to even process it," says Worden, an English literature and political science double major. "It's going to be absolutely unreal to study where William Wordsworth and Bertrand Russell have worked."
Sununu was less surprised by the news. "Stephen gives himself challenges, and then he rises to meet them," she says.
Worden will continue his studies at Cambridge, where he will pursue an M.Phil. in politics. He came to DePauw without any interest in the subject, but it quickly became his passion after taking courses with Assistant Professor of Political Science Smita A. Rahman.
Rather than the quantitative political science that leans heavily on demographics and polling, Worden's interest grew out of political theory. He studied nations that have rebuilt themselves after tragedy: post-Apartheid South Africa or the collapse of East Germany and its oppressive surveillance state.
Worden's graduate dissertation proposal continues his interest in political bodies in transition, but refocuses on the idea of progress in liberal democracies.
"Since the times of Kant and Hegel, Western political consciousness has been wedded to the belief that history is structured by a clear and rational idea of progress; that it moves along a linear path as it works towards its ultimate end," Worden wrote. "According to this narrative, mankind is becoming smarter, freer, and more egalitarian. ... However, what if this progressive understanding of history, which legitimizes the present by divorcing it from the past and locating the future as the sight of greater happiness, is an insufficient framework for political understanding? What if, instead, this narrative paralyzes man's capacity to affirm the present? What are the political consequences of this belief?"
The night before his application for the Davies-Jackson was due, differences between areas of political scholarship at St. John's College nearly derailed Worden's hopes. Realizing he would need to rewrite his personal statement, Worden looked to his adviser for help.
"The university system over there is a little different, and what I thought would be my original area of focus turned out not to be what I wanted to do at all," Worden says. "I went to Professor Sununu at 10 p.m., and she stayed up with me until 3 in the morning to help me finish my application. She was always just as eager and committed to this as I was."
Sununu's work with Worden comes as no surprise to those who know her. During the day, students flow in and out of her Asbury Hall office, with or without an appointment. In the summer, she even visits her former pupils who have long since graduated. The dedication she shows to her students, Worden says, helped him capture a dream – and begin a new one.
"I'd like to be a professor because of the relationships I've had at DePauw," he says. "My professors have opened doors for me. I hope I have the opportunity to do that for others, too."
More about DePauw's recent fellowship and award recipients can be found at www.DePauw.edu/Fellowships.
Back