Annie Corley '82 on 'Regi Darnell', Her Character in AMC's The Killing
May 10, 2011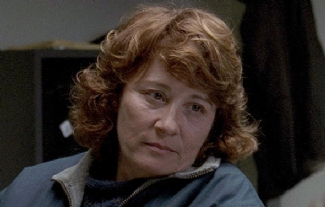 May 10, 2011, Greencastle, Ind. — "I ride horses and work at a really big stable when I'm not doing the TV and movie stuff, so I loved the fact that she wears a baseball cap and lives on a boat and wears jeans and a sweatshirt," says Annie Corley of Regi Darnell, the character she portrays on AMC's The Killing. Corley, a 1982 graduate of DePauw University, portrays a "mother figure and occasional babysitter for Sarah Linden" and is the subject of a Q-and-A on the network's website. She says "life and art overlapped" when she landed the role.
Of the process of becoming her character, Corley says, "Of all the things in my life that I don't have, I was blessed with really nice hair. So I get up, take a shower and do my hair. I get to the set and Julie, my hair lady, we proceed to laugh about how nice it looks and then she messes it up. Once she messes it up, we spray it so it stays looking like a lady who lives on a boat. As far as clothes, I get to pick out fun stuff to wear. I get to wear jeans and hiking boots and big sweaters and big warm coats. I'm totally dressed for the weather while everyone else is totally freezing."
The Killing airs Sunday nights at 10 (Eastern time).
Read more of the interview here.
Annie Corley is perhaps best known for portraying the daughter of Meryl Streep's character in The Bridges of Madison County, which was directed by Clint Eastwood. On television, Corley has had guest roles on CSI: Crime Scene Investigation, The Practice, NYPD Blue, The West Wing, Crossing Jordan, NCIS: Naval Criminal Investigative Service and Murder, She Wrote.
A communication major who was active in student theatrical productions while at DePauw, Corley performed in three films that were nominated for 2004 Academy Awards: 21 Grams, Seabiscuit and Monster. Corley has also had roles in The Cider House Rules, Malcolm X, Stick It, The Lucky Ones, Here on Earth, Juwanna Mann, Law Abiding Citizen, The Answer Man and Free Willy 3: The Rescue. She was also seen in 2009's Crazy Heart opposite Jeff Bridges, who won the Oscar for Best Actor for his performance in the movie.
Back