Courtney Lauer Earns Amy Hasbrook Award
May 8, 2011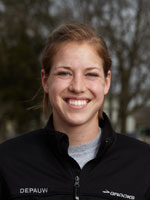 May 8, 2011, Greencastle, Ind. — Courtney Lauer of the women's track and field team has been selected as DePauw's top senior female student-athlete by DePauw's athletics department as she earned the Amy Hasbrook Award. The Hasbrook Award is presented annually to a senior female athlete who best exemplifies effort and excellence in academics, athletics, leadership, integrity, dedication to the team, campus involvement and community service.
Lauer is a two-time All-America selection after finishing sixth in the heptathlon at the 2010 NCAA Division III Outdoor Track and Field Championships and fourth in the pentathlon at the 2011 Division III Indoor Track and Field Championships.
A Management Fellow at DePauw, Lauer has a 3.77 grade point average through seven semesters while majoring in mathematics with a minor in economics. Lauer is also a member of Chi Alpha Sigma national scholar athlete honorary.
She's an eight time all-Southern Collegiate Athletic Conference performer and was named the SCAC Female Athlete of the Meet this year after earning all-conference honors in four events. A three-year letterwinner in the sport, Lauer also earned three letters in women's basketball. She's a three-time SCAC Academic Honor Roll selection in each sport.
Football player Jonathan Lambert was named the Phil Eskew Award winner as the top senior male student-athletes. Complete information on that is available here.
The awards are named for former DePauw student-athletes Amy Hasbrook '00 and Phil Eskew Jr. '63. Hasbrook was a four-year letterwinner for the women's basketball team who lost her life in a fire in 2002. Eskew, the president of DePauw's "D" Association for over 20 years, was a 1994 inductee into the DePauw Athletic Hall of Fame and was instrumental in its formation in 1986.
Amy Hasbrook Award Winners
Phil Eskew Award Winners
2005
Amy Argetsinger, basketball
2005
JaMarcus Shephard, football/track and field
2006
Leslie Dillon, cross country/track and field
2006
P.J. Mitchell, baseball
2007
Liz Bondi, basketball/tennis
2007
Evan Webeler, tennis
Sarah Gates, golf
2008

Rob Alexander, swimming and diving

2008
Katie Doogan, swimming and diving


Jeremiah Marks, football
2009
Amanda Stier, swimming and diving
2009

Michael McNelis, football
2010
Lauren Reich, cross country/track and field
2010

John Cook, Swimming and Diving
Megan Soultz, softball


Spud Dick, football
2011
Courtney Lauer, track and field
2011

Jonathan Lambert, football
Back