Benjamin Fingerhut '95 Directs Documentary, Breaking and Entering
August 16, 2011
August 16, 2011, Greencastle, Ind. — Benjamin Fingerhut, a 1995 graduate of DePauw University, is the director of Breaking and Entering, "a documentary that explores the culture and pursuit of a place in" the Guinness Book of World Records, notes a story in the Herald-Palladium of St. Joseph, Michigan. The film was screened in nearby Three Oaks on August 5.
Jeremy D. Bonfiglio writes, "Growing up in South Bend, Benjamin Fingerhut remembers the hoopla that surrounded Bill Anzelc. 'He was a friend of my brothers,' Fingerhut says by telephone from Chicago, 'and when he broke the Guinness World Record for longest distance on a pogo stick it was just the coolest thing in the whole world.' In 1991, Anzelc hopped 13.068 miles in 4 hours, 52 minutes and 45 seconds. It not only set a Guinness World Record, but planted an idea that Fingerhut would develop 20 years later."
The article notes, "Although Guinness World Record holders, from phone-book rippers and human cannonballs to fast talkers and finger-snappers, are sprinkled throughout the film, Breaking and Entering focuses on three would-be record holders."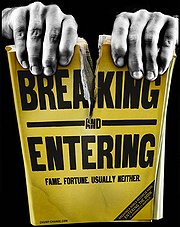 "I wanted to do a documentary where the subjects really told their own story," Fingerhut says. "To do that, I knew I needed to have good characters, and I thought they'd be good characters."
According to the newspaper, "Breaking and Entering is Fingerhut's first non-fiction effort. After graduating from DePauw University with an English degree, he moved to Chicago and began making short films. His first feature narrative, Down into Happiness, took second place in the inaugural 72 Hour Feature Project, and also marked the beginning of Chump Change Productions and his collaboration with Ashley Nath, Geoffrey Fingerhut and [producer Kelley] Maher. After a series of short theatrical presentations, Fingerhut hopes the documentary will be picked up by television. He also expects it to be available on DVD and On Demand by year's end."
Read more at the Herald-Palladium's website.
Back