Satiric Musical to be Staged October 6 - 9
September 24, 2011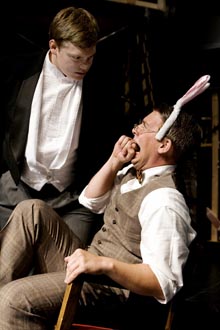 September 24, 2011, Greencastle, Ind. — The 2002 Tony Award-winning musical Urinetown -- described by the New York Times as "audacious and exhilarating" -- will be presented by DePauw University Theatre next month. Performances will take place Thursday, October 6, through Sunday, October 9 in Moore Theatre, located within DePauw's Green Center for the Performing Arts. Thursday, Friday, and Saturday's productions will begin at 7:30 p.m., while the curtain will go up at 3 p.m. for a Sunday matinee.
Urinetown is a satirical comedy musical set in the near future and takes place during a world drought. The severity of this water depletion causes the resource to be rationed to the point where a ban is administered on private toilets. One powerful company, the Urine Good Company, controls these "public amenities" and profits by charging admission. A revolution soon begins, with a young hero
who inspires the young and poor to rebel for their personal freedoms.
The comedic musical parodies favorites such as Les Misérables, Evita, West Side Story and Annie in addition to the Broadway musical itself as a form. Urinetown was the Tony Award winner for Best Original Score and was a nominee for Best Musical.
DePauw's production is presented by the department of communication and theatre with the cooperation of the School of Music. Susan Anthony directs the production, with music supervised by Steven Linville and choreography by Jared Norman.
Tickets for the production are $6 for the public and $3 for DePauw students with ID. They are available for reserve or to purchase at (765) 658-4827 or by e-mailing greencenter@depauw.edu.
Back