DePauw DG Alums Gather to Say Goodbye to All My Children
September 23, 2011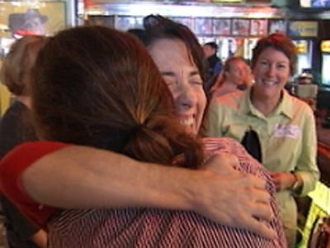 September 23, 2011, Greencastle, Ind. — As the ABC soap opera All My Children televised its final episode today after 42 years on the air, "Among the loyal viewers watching across the country, a group of Delta Gamma sorority sisters and DePauw University alumnae gathered at a downtown restaurant to relive the on-screen drama and off-screen friendships built around the show," reports Indianapolis affiliate WRTV. About 60 DePauw DGs, covering a span of seven class years, met at Ike & Jonesy's to celebrate their friendships and a show that brought them together every afternoon as undergraduates.
"It was between classes and we all made it to sit around the TV and have lunch and, at the very last second, make it to our 1 o'clock classes," Linda (Jones) Eichholtz, a 1979 DePauw graduate, tells the station.
The report also quotes Maureen Hill Watson '86 and Kelly Strader '85.

"The Delta Gamma women were joined at their party by an Emmy-winning writer on the ABC soap One Life to Live," Laine Bertram.
You'll find the article posted at the station's website. A portion of the report is embedded below.
Source: WRTV (ABC)/Indianapolis
Back