Actors From the London Stage Bring The Tempest Here, October 11 & 13
October 6, 2011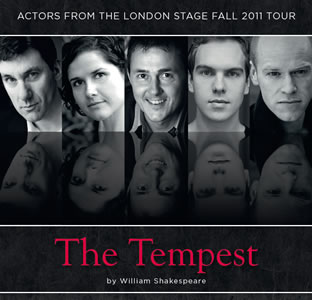 October 6, 2011, Greencastle, Ind. — One of the oldest established touring Shakespeare theatre companies in the world, Actors From the London Stage, will be on the DePauw University campus next week -- October 11 - 13 -- for two public performances and private student workshops.
Actors From the London Stage is a self-directed touring ensemble of five British actors representing several prestigious companies, including the Royal Shakespeare Company, Shakespeare's Globe Theatre, the Old Vic Theatre, the Royal National Theatre and the Zurich Ballet. They perform Shakespeare's plays with very basic production, using minimal props, no set, and the actors never leave the stage. Each of the actors plays multiple roles and frequently shifts characters while on stage,
offering an intriguing and often comedic effect.
On Tuesday, October 11, and Thursday the 13th, AFTLS will perform Shakespeare's "farewell to the theatre, The Tempest. Both performances will begin at 7:30 p.m. in Moore Theatre, located within the Green Center for the Performing Arts. They are presented free of admission charge and are open to the public.
This dynamic and enriching performing arts program visits sixteen-to-twenty universities in a year. AFTLS includes classically trained actors from prestigious companies such as the Royal Shakespeare Company, the Royal National Theatre of Great Britain, and Shakespeare's Globe Theatre. These talented actors then devote their experience to student interaction during classroom workshops, stage demonstrations, and more, while on these university tours.
Back