In The Open
October 6, 2011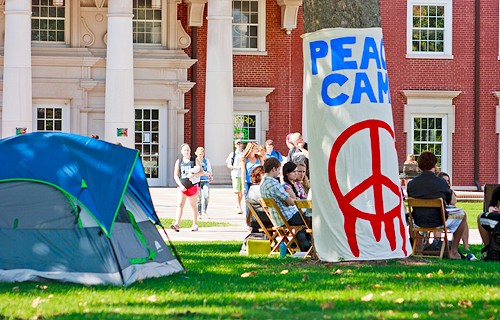 How can you ignore tents in the middle of a college campus? For interns at the Compton Center for Peace and Justice, that's sort of the point.

Like changing leaves and Monon Bell t-shirts, Peace Camp is an affirmation of fall at DePauw. Interns from the Compton Center organize the weeklong series of mostly open-air events to bring awareness to a patchwork of interrelated social issues.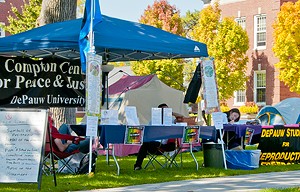 "People rarely see connections between different social justice issues, so Peace Camp offers a setting to expand on these conversations and make connections." says senior Nicholas "Nic" Flores, a Compton Center intern.

On a larger campus, passersby might simply be that. But at DePauw, the people in the tents are your friends. You see Nic and think, "I had a class with him," so you stop to say hello. Before long, you're talking and learning about something pretty important. Apart from it being a 24/7 campout, this isn't much different from what goes on in classrooms every day.

"I think the idea of student activism being a phase is a contradiction, especially here at DePauw," senior intern Kelly M. Kish says. "In our classes, we're encouraged to question authors, theories and past events. All students here are already activists, but they don't always know how to translate that to everyday life."

The Compton Center was named for former DePauw philosophy professor Russell J. Compton, an ordained United Methodist minister and fierce advocate for social justice. He was also the inspiration for the recently announced Johnson-Wright Lecture in Conflict Studies to Honor Russell J. Compton, the first of which will be given on Nov. 8 by Karen Koning AbuZayd '63, former commissioner-general of the United Nations Relief and Works Agency for Palestine Refugees in the Near East (UNRWA).

Sharing its 500 E. Seminary Street location with DePauw's Center for Spiritual Life, the Compton Center is home to a dozen student interns who hope to follow in its namesake's footsteps. Their role isn't just to talk about social issues, but to be heard.

"We're always talking about different types of activism, how to be inviting, how to introduce people to a subject in a way they've never thought about before," says coordinator Valerie E. Rudolph, who helps with campus programming and acts as a staff mentor to the interns.

Rudolph's job, as she explains it, is to "keep interns centered as they fight the man, so to speak." After all, they're dealing with serious topics, day after day, working to change the world. It's possible to get caught up in the passion of an issue without realizing that it's impacting your grades and personal relationships.

At the same time, these students are committed.

"I think my parents hoped my activism would end in high school, when I worked with issues of youth incarceration and racial inequality in New York City," senior intern Michelina Ferrara says. "It didn't. This is a choice I made for life – I can't just turn it off."
The goal, then, is to channel all that energy into productive, but uncompromising, work. Because most of the Compton Center's work is student-run, multi-year interns get to know their University inside and out. They know what funding is available to bring speakers to campus, and what classes look like throughout the curriculum.
By the time they graduate, they've not only proven their expertise on an issue, but also that they know how to navigate a maze of professional relationships and budgets, stretching pragmatism to its limits.

Laura C. Stevens, a 2007 DePauw graduate, wrestled with Peace Camp tent poles and social issues as a four-year Compton Center intern.

"I was leading groups of people right away," Stevens remembers. "My first big project came up during spring semester of my freshman year. I recruited and led a group of students to the March for Women's Lives in Washington, D.C. It was an awesome experience. Later, I helped organize more elaborate campaigns to certify green buildings on campus and get more local food in our dining system."

Like many other Compton Center alumni, Stevens turned her experience into a career. She now serves as an organizing representative for the Sierra Club's Beyond Coal campaign in Portland, Ore.

"I wouldn't have continued on this trajectory of environmental organizing if I hadn't had these experiences with the Compton Center," she says.
Back