Teaming Up for The Tempest
October 7, 2011
William "Will" A. Freske '13 is one of 15 students enrolled in The Tempest, a course team-taught by eight faculty members and offered in conjunction with a weeklong residency by the Actors From the London Stage.

"Having eight professors has been a unique experience because each teaches a specific lesson, including acting, history of theatre, development of Shakespeare's language and even a focus on music throughout the play," Freske says. "It really shows Shakespeare's depth when each professor teaches completely different lessons about his work."

The Actors From the London Stage (AFTLS), one of the oldest established touring Shakespeare theatre companies in the world, arrive this week to share their acting expertise and knowledge of William Shakespeare. In addition to visiting Freske's class and 17 other classes, they will perform The Tempest on Tuesday, Oct. 11, and Thursday, Oct. 13, at 7:30 p.m. in Moore Theatre in the Judson and Joyce Green Center for the Performing Arts. Performances are free and open to the public.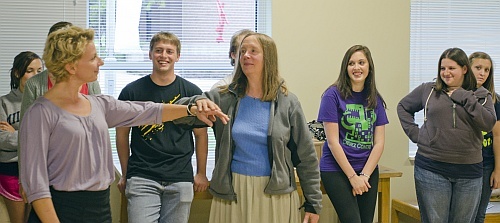 Each of the five actors, using a minimum amount of props and costumes, will take on two or three major roles and several minor ones in The Tempest, resulting in a fast-moving and very entertaining performance.

Freske, a communication and English writing double major, says the class is a perfect fit for him. The course designation – experiential experimental (EXP) – is a fairly new concept. Students receive a quarter credit and meet two hours a week for half a semester.

"I have studied Shakespeare in both my English and theatre classes, but I've never had the opportunity to focus on one play. The coolest thing has been analyzing the characters, mainly Caliban, who is Prospero's servant and perhaps the most complex character in the play," he says.

The course combines reading and textual analysis with approaches to performing the play, culminating in a workshop with the visiting actors. For their final project, students perform a scene and write about it.

Ronald "Ron" L. Dye, associate professor of English and communication and theatre, is coordinating the actors' visit, and is also one of the eight professors. "For the students, the course presents a focused study of one text. It's a lot of work for a quarter credit, but most of the students are taking the course because they love Shakespeare, and because it's a unique opportunity," he says.


Deborah "Debby" R. Geis, associate professor of English and chair of the department, concurs. "The students who sign up are super motivated and also risk takers, because what we find is that many of them don't have acting experience nor have they studied Renaissance drama before," she says.
"The AFTLS coach the students, which is the most exciting part of the residency. They come to class and look at the scenes that the students are working on," Geis explains. "It can be transformative. Students are very receptive to the professional British Shakespeare actors because they are disarming, very direct and really effective in getting students up on their feet speaking the language. An interesting aspect about learning to speak Shakespeare out loud is that it's much more conversational sounding than it is when it's read."
Hillary S. Kelleher, part-time assistant professor of English and Posse mentor, teamed with Keith E. Nightenhelser, part-time instructor of classical studies and coordinator of convocations, to examine the play's historical and intellectual context. Kelleher focused on Renaissance magic, while Nightenhelser drew connections between Montaigne and political thought. "What we're trying to do is to dovetail what we each specialize in with some aspect of this particular play. Part of what's so amazing about Shakespeare is that you can find something that appeals to all of us."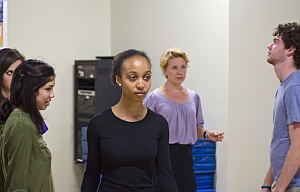 "We love to make that crossing between performance and text," Geis says. "It really makes the play come alive. One of the things that people love about Shakespeare is, on the one hand, you can be true to the language of the play, and on the other, there is something wonderfully rewarding about making artistic choices to bring the play alive."

The Tempest is a Performing Arts Series event that is co-sponsored by the Communication and Theatre Department and the Public Occasions Committee.
The four other faculty members teaching the course include Caroline L. Good, part-time instructor of communication and theatre and costume shop supervisor; Andrew M. Hayes, associate professor of communication and theatre and chair of the department; Amy M. Gaither-Hayes, part-time assistant professor of communication and theatre and coordinator of Will Power: Shakespeare in the Schools; and Andrea E. Sununu, professor of English.
For more information about arts at DePauw, visit the arts website.
Back