Zakary Phillips '12
October 21, 2011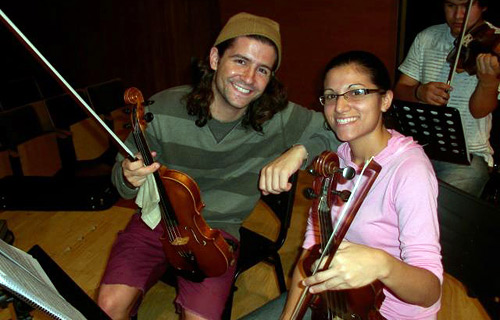 Senior Zakary D. Phillips' summer abroad in Argentina would have been a special experience on its own. He split his time in Buenos Aires between classes at two universities, and perfecting his violin talents at a conservatory with some of the country's most talented musicians. But it was an unplanned trip in the middle of all this that made his time in Argentina an experience of a lifetime.

One day, while practicing violin at the conservatory, his maestro approached him with an unusual proposal.

"He asked me, if you were to leave for a few days, would you miss anything?" Phillips remembers.

"No," was the answer.

A new theatre in Posadas, a city to the north, needed an orchestra for its grand opening. If Phillips was interested, the maestro might be able to arrange to have him play first violin – the classical equivalent of lead guitar.

Nothing was promised, however, so Phillips returned home to wait for word back from the maestro. Anxious and hopeful, he and his host mother, Maria Emma, talked about the opportunity. She even lit a prayer candle for him.

The next day, the maestro told Phillips that the gig was his. All he needed to do was pick up a bus ticket and everything else would be arranged for him in Posadas. The music for the performance was still a bit of a mystery, but Phillips – confident in his sight reading – was more eager than worried.

After a 12-hour bus ride, Phillips arrived in Posadas and met the other members of the orchestra arranged for the theatre's opening. Some were from an orchestra in Buenos Aires, some were students from Paraguay, and one violinist from Japan. He also had a chance to look over what he'd be playing: Verdi's La traviata and a selection of other well-known tangos.

"La traviata is an opera, but the music had been adapted for a ballet," Phillips says. "So, I had to learn how to play for dancers rather than singers. And I'd never played a tango before. It was exciting to try out something new. The tango transforms the violin into a totally different sound."

But it wasn't what they were playing as much as who they would play for that excited him. Dancing in the ballet was Iñaki Urlezaga, an internationally famous ballerino. The musicians would also play a private performance of Argentine composer Astor Piazzolla's Libertango for President Cristina Kirchner, who was visiting the area ahead of the national elections.

"I'd been watching television and the elections were the biggest thing," Phillips says. "To hear that she'd be coming was one of those full-circle moments – a person can be in the back of your head, but not seem real, or part of your normal life. Everything just came together that week."

On the day of her visit, the orchestra spent five hours preparing for Kirchner's 10-minute private performance. Everybody wanted to make an impression. Not only was the President visiting, but nearly every government official in the region would be in tow.
They waited nervously as the performance time neared. At first, the orchestra could only see the silhouette of well-dressed woman when Kirchner entered the theatre. She looked down from the balcony and exclaimed, "How modern!" And then the music began.

"Sometimes you try to figure out what you're supposed to be doing," Phillips says. "Which of my interests do I follow? When I went to Posadas, I was only thinking about being immersed in the beautiful music. But that moment was a reminder about doing something you love. It's like, look what happens when you follow your passion."

Urlezaga and Kirchner enjoying Libertango
After the grand opening, Phillips returned to Buenos Aires and shared his story with Maria Emma. She reminded him of the candle she had lit and told him, "Every once in a while, people get 'tapped.' You've just been tapped."

This fall, Phillips began his final year in DePauw's 5-year Double Degree program, a partnership between the School of Music and College of Liberal Arts – and one of the few options that could accommodate all his interests. He's majoring in philosophy, Spanish and violin performance, which is how he ended up studying at two different universities and a conservatory during his trip to Argentina.

Having flirted with fame and fortune, Phillips is looking forward to where life takes him next. "I feel like a spring," he says. "All my interests have intersected and condensed. Now I'm ready to explode into something."
Back