Larry G. Sutton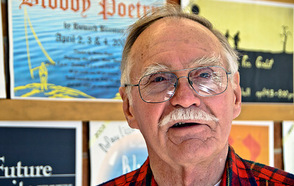 November 8, 2011
As a second grader performing for the first time on stage during a musical review, Larry G. Sutton, professor emeritus of communication arts and sciences, lost the pins holding up his crepe paper shorts. "I remember it," Sutton explains. "It was during the war years, and the only costumes available were ones you made out of crepe paper, and my straight pins let go. There I was trying to perform and hold up these flimsy things."
It was a show-stopping moment for the young performer, but the experience didn't keep Sutton from returning to the stage – in countless roles as actor and director over the years.

Sutton joined the DePauw faculty in 1963 and taught communication and theatre courses for 40 years. He chaired the Department of Communication Arts and Sciences, served as director of theatre and technical director of the Performing Arts Center. He directed more than 100 productions, ranging from the Greeks to Shakespeare, Moliére to Williams, Miller and O'Neill. He designed sets for more than 100 productions and served as technical director for more than 200 plays.

In addition, since 1966, Sutton has been involved in the Putnam County Playhouse as board member, designer, director and actor.

Last summer, Andrew M. Hayes, associate professor of communication and theatre and chair of the department, asked Sutton if he was interested in returning to campus to direct a play. His answer was an enthusiastic yes.

After learning the goals of the 2011-12 theatre season, Sutton chose Hedda Gabler, written by Henrik Ibsen and adapted by John Osborne. The play opens Thursday, Nov. 17, at 7:30 p.m. in Moore Theatre in the Judson and Joyce Green Center for the Performing Arts.

"The basis for theatre realism in the Western world starts with Ibsen," Sutton explain. "If you read the background on Eugene O'Neill, Arthur Miller and Tennessee Williams, they all say modeled after Henrik Ibsen. So, I thought this would be a good chance to do an Ibsen play," Sutton says.

"The roles in Hedda Gabler are complex and challenging, but I have a cast of seven remarkable young people, who are very hard working.



Hedda's character is extremely complicated, and Sutton describes why she is considered a psychological puzzle. Hedda torments Aunt Julia in the first act about the hat she is wearing. She leads George Tesman around by his nose, flirts with Judge Brack, but refuses to take the final step, and leads Eilert Lovborg to commit suicide.

"You ask, why does she do all of these things? Part of it is a matter of control," Sutton explains. "At one point, Hedda says that just once she'd like to have the destiny of someone in her hand. At another point, she says these things just happen to me, and I do them. However, it's never really explained why.

"Every Ibsen play is different, but Ghosts, A Doll's House, Hedda Gabler and several others have women as the protagonist," Sutton says. "It's because women had fewer choices in the world, and they were more prone to be affected by society.

"What can Hedda do?" Sutton asks. "Her father was a general, but apparently she had been left nearly penniless. She could become a governess, get married or become a prostitute. Those were her choices. So, she married George Tesman, who may have not been the best choice."

Sutton is looking forward to opening night of the play, and he is hopeful that it will be well received by the audience. He recalls a few favorite productions he directed, including Noises Off, The Crucible and A Man for All Season. "I have a lot of good memories of directing, but there are also some turkeys out there that I don't want to talk about," Sutton admits with a laugh.

"I'm probably in the business as much as I am because of my love for reading and talking about books," Sutton says. "From the third grade through junior high school, we had to give oral book reports every six weeks." Sutton knew that he enjoyed taking the stage, but he never actually finished even one report. "I would stand up, begin to talk and pretty soon everything would become fuzzy, and I would pass out.

"Of course, everyone thought I had a brain tumor or heart failure. I was checked for everything, and learned that I have one of the most common fears in the world – stage fright.

"I realized that there was nothing physically wrong with me. I was more worried about what people were thinking about me – rather than thinking about my message and my audience. So, I entered speech contests, and I made myself be in plays. You can't cure stage fright, but you just learn to live with it."

Sutton says he's having a lot of fun directing Hedda Gabler. "I'd come back again in a heartbeat," he says. "Two things that I've missed since retiring are working with students, both in the classroom and on stage, and daily interactions with colleagues, which I always found stimulating. The faculty members in the Communication and Theatre Department have a long history of talking to each other and exchanging points of view. So, I feel quite comfortable here."

Hedda Gabler runs Nov. 17-19 at 7:30 p.m. and Sunday, Nov. 20 at 3 p.m. Tickets are $3 for students and $6 for adults, and they are available at the Green Center Box Office. Everyone is welcome to attend an opening-night reception after Thursday's performance, and there is a talk-back after the show on Friday night.
Back