Little Giants Take Advantage of Turnovers, Retain Monon Bell with 45-7 Win
November 12, 2011
Also:

[Download Video: "2011 Monon Memory" - 6110kb]; Monon Bell Page; See 'Monon Memories'; Order Monon Bell Classic DVDs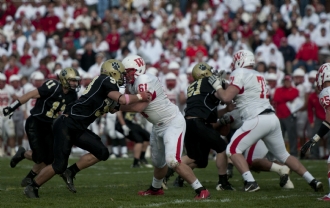 November 12, 2011, Greencastle, Ind. — DePauw University's defense limited the Wabash College offense to just 180 yards, but five Tiger turnovers were the story of the day as Wabash retained possession of the Monon Bell with a 45-7 victory this afternoon at Blackstock Stadium. A sellout crowd of more than 8,000 was on hand for the 118th game in the series and the 80th contest since the Monon Bell was introduced as the winner's prize in 1932. A national television audience also saw the action on HDNet.
The Tigers end the season with a 4-5 record, their first sub-.500 campaign since 1995. Wabash, now 10-0, advances to the NCAA Division III playoffs.
Wabash's lead in the all-time series increases to three games (56-53-9), while the count is now 37-37-6 count in contests played for the Monon Bell .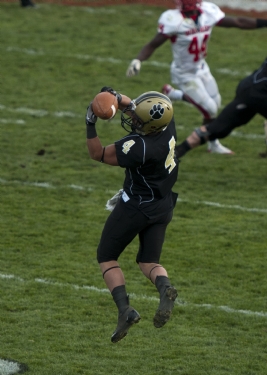 The Little Giants took an early 3-0 lead on a 32-yard field goal by Ian McDougall with 8:49 remaining in the first quarter.
A DePauw fumble about five minutes later set up Wabash's first touchdown with 2:51 to go -- a 33-yard run for paydirt by Vann Hunt.
Twenty-seven seconds later, the visitors dented the scoreboard again when Jonathon Koop intercepted a Will King pass and took it in from 22-yards out. It was 17-0 Wabash.
There were 49 seconds left in the first stanza when Wes Chamblee returned a DePauw punt 44 yards for another TD.
A Wabash sack of King in the end zone led to a fumble, which was recovered by Pat Clegg for six points. The Little Giants took a 31-0 lead to the locker room at halftime, despite having only 110 yards of total offense.
The lone score by the black and gold came with a second left to play in the third quarter. Senior running back Jon Ellis rumbled in from 5 yards out (see the play on YouTube).
The extra point by Eric Malm made it 31-7.
The day's second pick-six of Will King came with 13:49 left in the game. Denzel Williams scored from 22-yards out.
The Wabash lead increased to 45-7 when backup quarterback Andy Walsh ran it in from 3 yards out with 3:57 left to play.
Each team had nine first downs on the day. Wabash had 159 yards rushing, compared to 39 for DePauw, but the Tigers picked up 111 yards through the air and limited their rivals to just 21 yards passing.
King completed 16-of-36 passes but threw three interceptions. Wabash's Chase Belton struggled through a 2-of-11 performance.
Wabash's ground game was led by Vann Hunt who collected 59 yards on 8 carries, including the TD. Belton added 38 yards on 13 carries.
DePauw's Ellis carried the ball 14 times for 43 yards.
Learn more at the football team's official online page.
Also available is game footage which aired on Indianapolis NBC affiliate WTHR-TV :

[Download Video: "Highlights" - 3011kb].
Orders are being accepted for the 2011 Monon Bell Classic DVD, which will include this year's contest and a range of bonus material, including photo galleries and historic clips from past games. Learn more, and place an online order, by clicking here. Also available are the DVDs of the 1977, 1994 and 2000-10 Monon Bell Classics (supplies of past games are extremely limited; the 2008 package is a two-disc set including all 115 "Monon Memories" produced to that date).
A complete roster of "Monon Memories" -- video highlights of 117 past classics -- can be found here.
Back