Saks Internship Never Goes Out of Style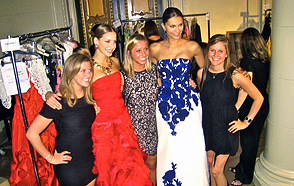 February 22, 2012
Seniors Julie C. Buchta, Kirsten A. Seeland and Katherine "Katie" C. Wickman spent Winter Term interning at Saks Fifth Avenue Corporate Office in Palm Beach, Fla., working behind the scenes at high-end fashion shows, including Oscar de la Renta.
Saks intern supervisor Nancy Kazele has hired DePauw students for 15 years to work during Winter Term – a tradition that began in 1998 with Kelly E. Slager '99. Kazele says she appreciates DePauw students' hard-working attitudes and how quickly they exce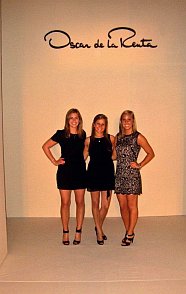 l. She looks forward to their arrival each year.
It's not a coincidence that the students, including Slager, are members of Pi Beta Phi sorority. Wickman explains, "Nancy was so happy with Kelly's work that she encouraged her to tell her friends about the internship, and so it's become something that just continues to be passed on to the next class in our house each year."
Wickman says if you have an interest in fashion and event planning, then the position is a perfect fit. The trio spent three weeks working on fashion shows and social events that Saks hosts throughout the winter season in Palm Beach, including Vehrnier jewelry and Carolina Herrera apparel, but the main event was the Oscar de la Renta show.
Buchta, Seeland and Wickman spent a week working on publicity for the show, including writing press releases, designing programs and putting together press packets and timelines. "It was a lot of work, and we physically unpacked all of the dresses, steamed them and put them into order according to the lineup," Wickman says.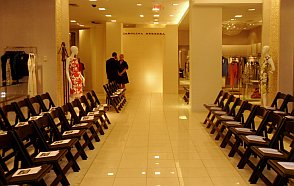 "We had to transport everything to The Breakers Resort and Hotel. Once there, we helped the models with the fittings. During the show, we were responsible for the lineup and had to be sure all of the models were in order. It was a very stressful 30 minutes, but the show was flawless.
"It was a really rewarding and exciting three weeks," Wickman says. "I'm glad to have had the experience. It gave me an appreciation for what goes on behind the scenes. There was so much organization and prep work that went into everything we did, and it was so cool to unpack thedresses and see why they're worth so much. The details are incredible.
"The internship was well worth it. I gained experience I didn't have before," she says. Wickman is preparing to graduate in May. As a result of her Winter Term experience, she is applying for event-planning internships, including one at the Art Institute of Chicago.
Buchta is an education studies major and has always been interested in fashion. She decided that the internship would be a perfect opportunity to experience a new field. "Public relations and event planning have always intrigued me," she says. "I learned what goes into planning an event, and I worked with many different people at all levels – from store managers to designers to runway models. I definitely have a better understanding of how to communicate more effectively and work with different personalities to reach a common goal. I'm really happy I had the opportunity to intern with Saks. It truly was an internship of a lifetime."
Back