Here to Help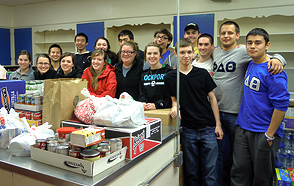 March 12, 2012
Senior Vincent M. Aguirre was on the opening leg of a road trip to Atlanta. He and four of his Phi Delta Theta brothers – junior Mark N. Ditkof, and freshmen Alexander J. Spears, George Velazquez and Richard A. Perez – had departed Friday afternoon and planned to reach Atlanta early Saturday morning in time for their fraternity's regional conference.
They never left Indiana.
Throughout the day, severe weather hammered much of the state with hail and high winds. The storms had already swept through campus, delaying the group's trip south, but not cancelling it.
"When the weather hit Greencastle, a few of us thought it would be best to wait it out, but no one knew what was going on in southern Indiana," Aguirre says.
It didn't take long for them to find out. Just outside of Henryville, Ind., a country town near the border with Kentucky, traffic ground to a halt, and their cell phones lost service. A family member eventually reached through to them to relay what had happened just a few miles ahead.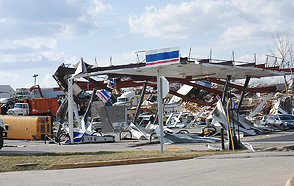 The tornado that passed through Henryville was the strongest in a day when dozens had touched down across the South and Midwest. It traveled 50 miles from Indiana into Kentucky, reaching wind speeds of 170 miles per hour. Major sections of Henryville, including the local elementary school and high school, were destroyed. In nearby Marysville, almost nothing was left standing.
Knowing they wouldn't be able to reach Atlanta, the Phi Delts turned around. But on the ride back, they received a campus-wide Facebook event invite. Sophomore Chelsea D. Naylor and freshman Richard D. Walsh, members of DePauw's Bonner Scholars Program for community service, were organizing volunteers to travel to southern Indiana the next day. Once back at home, Aguirre and the others swapped conference clothes for work boots in preparation for a different kind of trip.
Twenty-one volunteers – including the group from Phi Delta Theta – answered Naylor and Walsh's call to action the next morning. The Association of African-American Students had also donated nine bags filled with clothing for women and children.
"I was really blown away and inspired by the turnout," says Naylor, whose family is from the southern Indiana area near where the tornado hit. "We started planning this the night before, and that's not a large window to draw up plans. The group was ready to go at 8 a.m. with all their enthusiasm, and ready to go the whole day."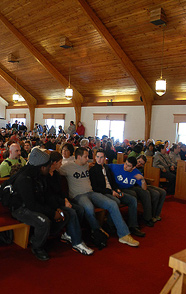 With Henryville closed off due to the continued search-and-rescue efforts, the Red Cross was instead directing volunteers to a staging area in Jeffersonville to the south. After a training session held in a packed church (right), the students spent the day sorting and delivering donations to other Red Cross locations in the area.
"The Red Cross was bombarded with donations, and they didn't have the facility to accommodate all of it, so we kind of took over the role of transporting all of it," Naylor says.
Most of the students returned to DePauw that evening, but it wasn't the end of their relief work. A small group remained in the area overnight, and traveled to Henryville the next day to help unload donations.
Aguirre returned to Henryville this past weekend with six brothers from Phi Delta Theta and 10 others, including a group of Greencastle residents. They spent Saturday working in and around a barn that was destroyed, cleaning debris and prying off pieces of metal the wind had wrapped around trees. On Sunday, they helped unload truckloads of supplies that were sent from across the country.
A week after the tornado hit, Aguirre says that the initial shock has given way to the united efforts of a motivated community.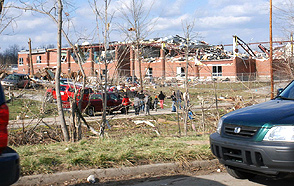 "Most of the physical damage is still the same, but there is a clear sense of organization that was not there before," Aguirre says. "It almost felt as if the whole community was coming together for a family event. Everyone is upbeat and friendly. One man blocked our car into the parking spot and told us, 'If you need to get out, my keys are on the dash.'"
At DePauw, Kate Smanik, director of the Center for Spiritual Life, worked with Naylor and Walsh to organize a campus drive for food and hygiene products. Walsh said a few of the donation boxes had already been filled by the end of the first day, and some of the early supplies were sent to Henryville with Aguirre on his return trip.
Though Henryville became a public face of the March 2 tornadoes, it's neither the only town to be hit, nor the sole focus of campus relief efforts. Sophomore Anna M. Butz and Freshman Emily F. Kaufmann are planning an Easter dinner on April 7 to benefit Holton, Ind., a hard-hit town in southeastern Indiana. A cover charge of $5 will go toward rebuilding the Holton community.
In the meantime, Naylor and Walsh recommend that people donate to relief efforts by using the donation boxes – located in Harrison Hall, Asbury Hall, the Hub, the Den, the Green Center for the Performing Arts and the Center for Spiritual Life until March 16 – or by donating directly to the American Red Cross. Donations can be made online or left at your local Red Cross chapter. A one-time donation of $10 can also be made by texting the word REDCROSS to 90999.
Back