An Extraordinary Opportunity for Enrolling DePauw Students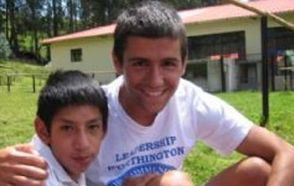 March 16, 2012
DePauw's Servicio en las Américas program is inviting applications from admitted students in the class of 2016 to take part in a five-week intensive summer program on DePauw's campus and in Ecuador. Thanks to a generous gift from DePauw University trustee Steve Trulaske '79, this program is free of charge for all students accepted into the program. The application deadline for this summer's program is April 1, 2012.
Students accepted into the program will spend two-and-a-half weeks on campus improving their Spanish language skills, followed by two-and-a-half weeks in Ecuador engaged in community-identified service-learning projects while focusing on the building of solidarity between those communities and DePauw. In addition to preparing for the academic demands of the DePauw experience, students can develop an intellectual understanding of the interconnectedness of communities on a local and global scale and broaden their sense of cultural diversity and responsibility as global citizens.
"It's one thing to read about other places in the world, but it's not until you're there to experience another culture firsthand that you truly feel enlightened," says Becca Maddrell of LaGrange, IL, a 2007 participant.


More information about the Servicio program can be found at on the Servicio homepage. Questions may also be sent to Prof. Bob Hershberger at hersh@depauw.edu.

To apply, interested students should go to the DePauw Admission page.
Back