University Mourns Passing of Prof. Emeritus David Herrold
June 1, 2012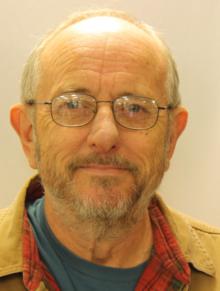 David Herrold, professor emeritus of art at DePauw University and a member of the faculty for 36 years, passed away Thursday, May 31, at his Greencastle residence. He was 69 years old.
Herrold, who was born November 5, 1942 in St. Paul, Minnesota, received his B.S.E. from Emporia State University in 1967, and earned his M.F.A. from Wichita State University in 1972, the year he joined the DePauw faculty. From 1968 to 1970 he served as curator for the Wichita Art Museum Mobile Gallery in Wichita, Kansas.
Professor Herrold's work was the subject of a retrospective of his highly productive DePauw career at the University's Peeler Art Center in 2008, the year he retired.
During the 1970s and early in his tenure at DePauw, Herrold adopted low-temperature firing techniques using talc body clay and metallic lusters, creating ceramic works with a Pop sensibility and sculptural basis. After using these techniques of most of the decade, Herrold gradually migrated back to working with stoneware and porcelain, for what he felt was their more "dignified" characteristics.
During the 1980s, Herrold temporarily abandoned clay and instead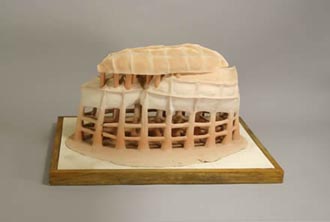 began working with new media inspired by the personal computer revolution of the decade. While on sabbatical in 1986, he developed a way to transfer computer images to 16mm movie film, convert them to video, and add a soundtrack. The result was computer animation, which he continued to experiment with. Herrold's skill and interest in the still image also led him to use the computer as a photography editing device, which he adopted as a means of creating digital photo composites. (left: Herrold's Sears and Roebuck, 1975; earthenware)
Professor Herrold returned to clay during the 1990s, but began working with a new, hybridic process that fused the traditionally handmade with new technology. In 2002 he created a machine he dubbed the "Slip Jet Printer," a hand-operated, three-dimensional clay
printing device that allowed him to produce richly textured clay forms with complex symmetries that would be difficult to create by hand.
Herrold's sabbatical at the University of Wolverhampton led to an article by the professor being published in the September/October 2001 issue of Ceramic Review, a British journal.
A memorial service will be held at 3 p.m. Sunday, June 10, in Meharry Hall, East College at DePauw University. A reception will be held immediately following the service at the home he shared with his wife, Susannah Hardesty.
More information is available in an online obituary.
Back