Familiar Faces and Timeless Places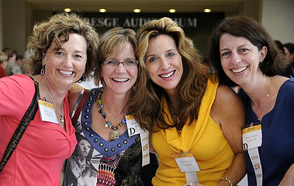 June 1, 2012
Still thinking about returning to DePauw for Alumni Reunion Weekend? It's nearly time to get off the fence and on the road.
As in previous years, the 2012 Alumni Reunion Weekend, June 6-10, is a chance to catch up with old friends and meet new ones, to spend another night in one of DePauw's residence halls or Greek houses, and to sit in on special lectures organized by professors and alumni who are experts in their fields. But add to that all the excitement of the University's 175th Anniversary celebration and this year's event may be the best one yet.
"The response has been tremendous," says Jennifer Clarkson Soster '88, executive director of alumni relations. "The schedule includes several special 175th Anniversary events, including a Met and Married vow renewal ceremony. It promises to be one of the biggest celebrations we've had in recent years."
Officiated by University Chaplain P.T. Wilson, the Met and Married vow renewal ceremony is one of many ways this year's Alumni Reunion Weekend will honor the people who have made DePauw a special place for the past 175 years.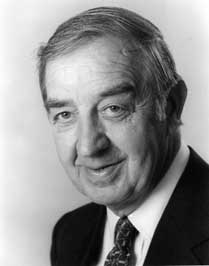 On Saturday, June 9, the University will host a Celebration of Life for Thomas "Tommy" A. Mont Jr., who passed away in January. Mont served as DePauw's head football coach from 1959 until 1977, and then as athletic director until his retirement in 1987. Former players and coaches will pay tribute to Mont, who will no doubt be remembered as much for his sharp wit as for his lessons in leadership.
Members of this year's 1962 50th reunion class may best remember Mont for his dominance over Wabash College in the Monon Bell rivalry game. In the 1960 game, a year into his tenure as head coach, Mont faked an extra point rather than going for a tie. The call paid off, stealing a win and beginning a five-year run of keeping the bell in its rightful home.
A star quarterback at the University of Maryland in the 1940s, Mont got his first coaching position during World War II. Serving as an officer in the United States Army, he led his 3rd Infantry Division team to the 7th Army championship in 1945.
After the war, Mont went on to play professionally in the NFL, spending three seasons with the Washington Redskins as a backup for Hall of Fame quarterback Sammy Baugh. In a 2007 speech, Mont recalled his first game with the team, played before 96,000 fans at the Los Angeles Coliseum.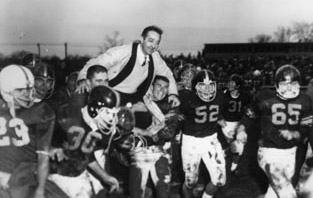 "I had missed training camp with the Redskins, so I wasn't expected to get into the game," he said. "They had me listed as the number-two punter. Well, the number-one punter gets hurt, and I have to go into the game. This was in the day when helmets didn't have face masks. I was so nervous, I put my helmet on backward. When I got on the field, the referee asked me if I was coming or going."
Alumni and guests interested in attending the Celebration of Life for Tommy Mont are asked to R.S.V.P. to the Office of Alumni Relations by calling toll-free at 877-658-2586 or emailing alumnioffice@depauw.edu.
Also on Saturday, DePauw's Rector Scholars will gather to recognize the important place of their scholarship in University history. Susan Price Miller '62 – who earned a Rector when it was required that a female recipient have higher grades than any male Rector her class – joins a group of planned speakers that includes Class of 2012 Rector Morgan M. Hooks and Daniel L. Meyer, vice president for admission and financial aid, who will address the role of the award in the 21st century.
When it was established in 1919, the Rector Scholarship was described as the largest academic scholarship of its kind. Edward Rector, a trustee who founded the award with his wife, Lucy Howland Rector, described their gifts to the University as "investments in humanity, in the men and women who are to carry on the work of our country and the world when you and I are gone." Since then, more than 4,000 graduates have received Rectors, and many are among DePauw's most distinguished and honored alumni.
A 2010 gift from Rector Scholar M. Lewis Gulick'44 helped to renew what he called the "Rector spirit" on campus and off. With the gift, DePauw named Professor Emeritus of Mathematics and Economics John "Jack" E. Morrill '57 director of the Rector Scholarship Program – its first in nearly three decades. Morrill, a Rector Scholar himself, oversaw the creation of a new Rector Scholarship website and revived the long-dormant Rector Record newsletter.
"I am very grateful to Lew for his many contributions reminding DePauw of the history and significance of the scholarship," says Morrill, who will read a special message from Gulick at the Reunion Weekend event. "It has been a privilege to participate in reestablishing the Rector tradition."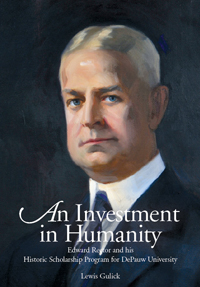 Gulick, a retired journalist who lives in Arlington, Va., wrote an exhaustive history of the Rector Scholarship in his book, An Investment in Humanity. The book is available to order from the DePauw University Bookstore by calling 765-658-4926, or downloadable in PDF format from the Rector Scholarship website.
Kevin Armstrong '82, president of Methodist Health Foundation, will be a featured 175th Distinguished Lecturer during the Alumni Chapel on Sunday morning, capping the weekend's festivities.
Soster says tickets for some reunion events have sold out, and rooms on campus are scarce. More than 1,100 people have registered for the 2012 Alumni Reunion Weekend so far, and many others are expected to attend.
"I urge anyone who is thinking about returning to campus to give us a call as soon as possible," she says. "Of course, there are many opportunities for reconnecting, reminiscing and intellectual engagement during the weekend that don't require tickets or registration, but we can assist alumni with their planning before they arrive."
For assistance with planning a stay in Greencastle, visitors can call the Office of Alumni Relations toll-free at 877-658-2586. Please visit the Alumni Reunion Weekend website for information about registration, a complete schedule of events, lodging details, and child care and activities.
Back