Student-Athlete Profile: Katie Aldrich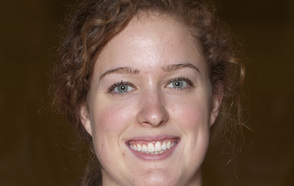 June 8, 2012
"Coming in to college, I always told myself I would take advantage of everything DePauw had to offer," Katie E. Aldrich '12 says.
So, she did.
It's hard to say who on campus wouldn't have crossed paths with Aldrich or her work during her four years at DePauw. The Lexington, Ky., native graduated in May with a major in environmental geosciences. Her passion for conservation and sustainability occupied most of her time as a student, and she made sure other students took notice, as well.
As an ethics intern at the Janet Prindle Institute for Ethics, Aldrich wrote opinion articles for The DePauw, the student-run campus newspaper, covering topics such as the Conflict Free Campus Initiative, which DePauw President Brian W. Casey signed in the spring. Working with the Office for Sustainability, Aldrich helped to calculate the University's carbon footprint, and organized campus-wide recycling awareness events.
"My favorite part of it all was the outreach and education," Aldrich says. "I met so many new people, from students and faculty to Greencastle residents, and I tried to discuss with them the issues DePauw faced in terms of sustainability."
But it was on the basketball court where the 6'1" power forward introduced herself to most of the DePauw student body – and the bodies of opposing players assigned to guard her. Playing under women's basketball coach Kristin Huffman, Aldrich developed from a young role-player with potential into the North Coast Athletic Conference's 2011-2012 Player of the Year and a Women's Basketball Coaches Association All-America Team Honorable Mention.
"Playing under Coach Huffman and the rest of the coaching staff improved every skill I can think of, on and off the court," Aldrich says. "The coaching staff gave me confidence, unprecedented skills as a leader, and the friendship and support I needed. Coach Huffman realizes the value of relationships with her players. My friendship with her allowed her to give me criticism and advice that turned me into a successful player."
Beginning in August, Aldrich will continue her environmental interests as a graduate student at Indiana University's School for Policy and Environmental Affair. She plans to do biogeochemical research on the East Fork of the White River, which runs through south-central Indiana, while pursuing dual master's degrees in public affairs and environmental science
"Like any grad student, I'll be juggling a lot of work," she says, "but I'm really excited. Being a student athlete has taught me to work through the hard times, to challenge my peers and to have fun every chance you can get. I'm optimistic about the challenge ahead, and I know I will have amazing opportunities with the foundation DePauw has already given me."
Back