Prof. Orcenith Smith Lends Talents and New Composition to Indiana University-Southeast String Clinic
July 12, 2012
Orcenith Smith, professor of music at DePauw University and director of orchestras, will serve as a guest conductor and has composed a work for the final performance of the ninth annual Indiana University-Southeast String Clinic, which takes place July 14. The week long camp features students grades 7-12 from the southern Indiana and Louisville area.
With the students taught daily by string professionals, including members of the Louisville Orchestra, Professor Smith was invited to guest conduct the final concert for a seventh consecutive year.
"In the very important work being done by string teachers throughout the school year, summertime becomes an important opportunity for their teaching of students to move dramatically forward," says Professor Smith. "This can be provided by intensive summer camps, like the IUS String Clinic, where 3-4 hours of rehearsal in chamber music and string orchestra allow greater depth of focus compressing learning time. Being brought to work with the students at the cumulative point of the week's work has been a real honor for me, and is very exciting."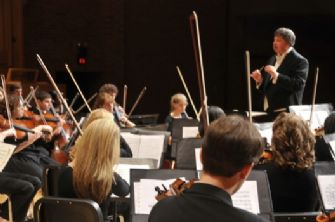 He adds, "The students' playing in the best literature, so expertly prepared by these excellent teachers, is a credit to them all. I was inspired to composed a work, Elusive, to explore unusual performance techniques."
It has been a busy summer for Smith, guest conducting the Philharmonic Orchestra of Indianapolis in a concert sponsored by the Indianapolis Park's Department celebrating Flag Day and Father's Day, and guest conducting another string camp, Strings and Jazzy Things, for inner-city string and band students in Indianapolis.
Visit the DePauw University School of Music online by clicking here.
Back