Colin Doran '11 is Graduate Assistant Football Coach at Concord U
August 23, 2012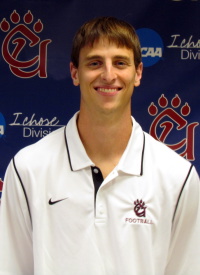 Colin Doran, a 2011 graduate of DePauw University, has joined Concord University's football program as a graduate assistant coach. He rejoins former Tiger offensive coordinator Dustin Ward, who has the same position at Concord.
"Colin came highly-recommended from Dustin Ward," says Concord's head coach, Garin Justice. "Colin had an outstanding career at DePauw both on the field and in the classroom."
A communication major and wide receiver at DePauw, Doran was a part of conference championship teams in 2009 and 2010 and "his senior class recorded the most wins in a four-year period in school history," notes Concord's announcement. "Academically, Doran was

named to the Southern Collegiate Athletic Conference (SCAC) Student-Athlete Academic Honor Roll in 2010."
Concord won the 2011 West Virginia Intercollegiate Athletic Conference (WVIAC) championship last season and went to the NCAA Division II playoffs for the first time in school history.
Read more here.
Back