Getting Their Hands Dirty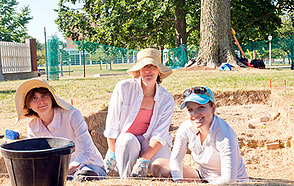 August 31, 2012
Danica R. Andersen '15 and Kathleen M. Raymond-Judy '15 just ended their first summer break from college. It ended up not being much of a break at all.
Their adventure began in June, the end of their freshman year and beginning of their first dig as archaeologists. And it happened on DePauw's campus, of all places. Four feet below their daily walk across campus, a secret was hidden. The secret wasn't buried treasure or a lost temple, but a strangely unclear piece of DePauw's past.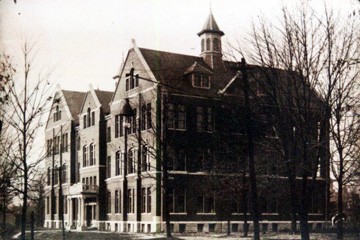 Built in 1902, Minshall Lab was home to some of DePauw's most celebrated alumni. As a chemistry professor at DePauw, Percy Lavon Julian '20 formulated the synthesis of physostigmine in Minshall, a discovery that made him the National Academy of Sciences' second African-American member. Long before Ferid Murad '58 became a Nobel Laureate in medicine, he learned the principles of his life's work in Minshall, maybe even sneaking in at night through the fire escape to complete a lab exercise – a rite of passage for new majors.
Stories of Minshall Lab's later days are not so nostalgic, however. As the building aged, it was less a monument to achievement than a growing hazard with frequent emergency evacuations due to its failing ventilation system. The needs of a chemistry department had changed since the nascent days of nuclear physics. In 1973, no longer suited to its purpose of training the best and brightest chemists, Minshall was razed and buried in its own basement.
A few pieces of Minshall Lab remain above ground. Every day, students pass by its columns outside the Memorial Student Union Building near where they stood originally, and its dedication plaque sits – appropriately – in the Percy L. Julian Science & Mathematics Center.
Despite the wealth of memories, photographs and records that exist of Minshall Labs nearly 40 years later, the building's precise location along Hanna Street was up for debate. Every campus survey from the Minshall era disagrees about the old laboratory's location. And, with a new dining hall planned for Minshall Lab's old campus footprint, the window for settling the matter was closing quickly.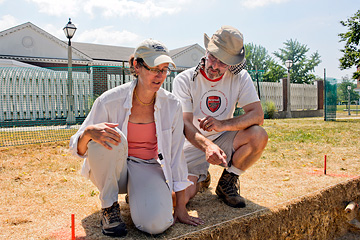 Backhoes might have destroyed the full truth of Minshall's resting place if Pedar W. Foss and Rebecca K. Schindler (right), both associate professors of classical studies, hadn't planned a special excavation of the site for DePauw's 175th Anniversary. Though the two archaeologists share decades of experience in exotic Mediterranean locations, they had never excavated in the United States, and nothing so recent.
"Pedar and I sometimes walk around campus and go, 'I wonder what's under that?'" Schindler says. "I think when you're an archaeologist you're looking at landscape that way. We've talked very casually about how it would be interesting to dig here or there. What gave us the impetus were the 175th celebrations going on all year. We've also thought that when we teach our archaeology methods class, wouldn't it be great if we could teach it as a practicum by doing it."
Working with Foss and Schindler, Andersen and Raymond-Judy set out to find Minshall's southern wall, hopeful they might also find some of the science relics buried with it. During Alumni Reunion Weekend prior to the dig, one visitor joked they might want to bring a Geiger counter with them. It soon became clear that they were digging up more than the remains of an old building. They were unearthing memories.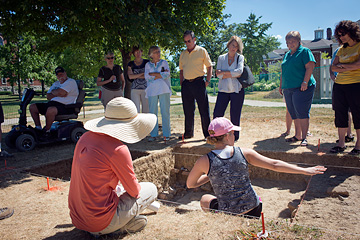 "We had a lot of people stop by in the middle of the day just to talk about the building, and we would share what we had learned and what we were doing," Raymond-Judy says. "There was definitely a community around the project."
(Left: Visitors receive dig updates from Andersen, in trench, and Raymond-Judy during a Friday morning "Trench Talk.")
"It was interesting to hear stories from people walking by as we were digging," Andersen adds. "It definitely changed the experience. Instead of just finding things and thinking, oh, this is a piece of tile, who knows where this is from, people would walk by and say, 'Oh! That's that ugly bathroom tile!' We never would have known that, but to have people there who remembered the building, it brought a whole new aspect into the archaeology."
Not every shared story was from a stranger. Andersen, who has nine family members who have attended DePauw, received an old news clipping about the lab her grandmother had kept. And Raymond-Judy's grandfather, O. Ralph Raymond, a long-time member of DePauw's political science department, joked that he'd lost a silver dollar while walking past the building. (She responded by finding one at an antique store, covering it in dirt and sending it to him.)
By the third and final week of the dig, their excavation trench measured about the size of a parking space, and more than 3-feet deep at its deepest end. It was just large enough to account for all the possible locations of Minshall's southern wall based on the previous surveys – a good thing, because all three turned out to be wrong.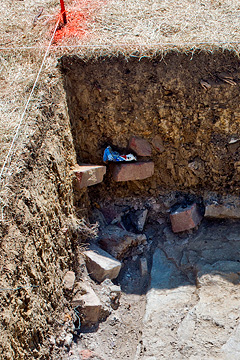 The location of the southern wall was their biggest find, but not the only one. With the trench extending a few feet past the wall into Minshall's debris-filled basement, the group found piles of bricks and broken tiles, pieces of an old acid flask, a large piece of decorative stonework and a commemorative Pepsi can. In a normal excavation, without the benefit of historical records, the can would have been nearly as exciting as pulling gold from the ground. The discarded piece of trash was a textbook example of Archaeology 101.
(Right: The southern foundation wall is visible in the bottom right, nearly level with the soil. To its left was Minshall Lab's basement, where the commemorative Pepsi rests on top of debris.)
"The Pepsi was a 75th anniversary can, so it had a specific date attached to it," Raymond-Judy says. "We already knew that, yes, Minshall was razed in 1973. We have witnesses, photographs, records. But if we'd found a can that said 1981, for example, we might be kind of confused. The fact that it had a date that matched what we knew was useful. It allows us to date everything at that level in the trench."
With that kind of information, stories start to appear from a simple piece of trash. "We start to imagine a scenario where the construction workers are finishing up for the day," Schindler says. "They're having a Pepsi and thinking, since this whole thing is a garbage heap, I'll just toss the can in."
The Minshall dig wrote a definitive end to a chapter in DePauw's 175-year history, but not long after finishing, Andersen and Raymond-Judy left the country to take part in a story that spans thousands of years.
In July they traveled with Foss to an ancient region in southwest Turkey filled with real lost treasures. Lycia was once a corridor between the empires of the Mediterranean and Western Asia's Anatolian plateau. Thousands of years of trade between these groups littered artifacts from as long ago as 3500 B.C.E across the land, keeping archaeologists such as Foss very busy.
For two weeks, Andersen and Raymond-Judy combed the hills and plains near the towns of Çaltilar and Seki for remnants of cultures who lived there. They weren't digging as they had been earlier in the summer – farmers' plows have made that unnecessary – but their training with the high- and low-tech tools of archaeology helped the students get the most from their stay.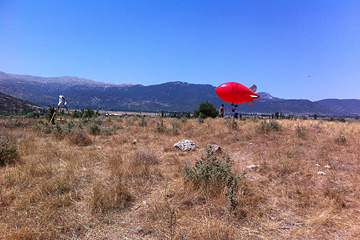 (Left: Team members prepare for balloon photography over Eceler Mound, Seki Village.)
Each find was painstakingly recorded in an ever-growing database controlled by the Çaltilar Archaeological Project, an international collaboration headed by the Universities of Bristol and Liverpool in the U.K. Using GPS data and specialized Geographic Information Systems (GIS) software, the students created maps to help researchers understand how the peoples of Lycia adapted to the land, exploited it, and moved across it.
Separated by an ocean in time and distance, there were similarities with the Minshall excavation. As in Greencastle, the people of Çaltilar took an interest in the archaeologists' work.
"What was really cool was that both projects had significant components of community outreach," Foss says. "People were really interested in their past. In this small village of about 400 people where we lived, nearly 100 of them ended up coming by our dig house over the course of three or four days to look at displays we had made, or the pottery we found, or to ask questions about their past."
Sadly, the Çaltilar project is also operating in a limited window of opportunity, but with much more at stake than the foundation of an old laboratory. Parts of the region filled with valuable marble are now marked for quarrying. What remains of lost cultures will soon disappear in the backs of trucks.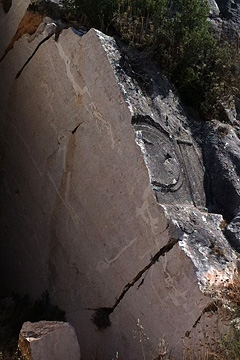 "The amount of quarrying that's happening up in these hills is staggering," Foss says. "On the mountaintop above the town, there's an entire ancient sanctuary to an unknown god that may never be explored because it will be destroyed. If we care as humans about our shared heritage, then we have to do what we can to find out about this stuff where it is in imminent danger of obliteration."
(Right: An ancient rock-cut shield relief, sundered by modern quarrying, near Eceler Mound.)
Ironically, the project itself may be putting artifacts at risk. Treasure seekers follow close behind the archaeologists, often digging up or destroying ancient rock reliefs in hopes of finding valuable artifacts underneath. While archaeologists are trained to turn their findings into information, these looters only care about turning it into riches.
"Usually, rock reliefs show three figures: two horsemen and a person standing between them," Andersen explains. "The rock reliefs we went to see had four figures. Somebody had published that these were really special, and people thought, maybe they are hiding something."
The archaeologists at Çaltilar hope simply to outpace the looters and miners. On the day of their departure, Andersen and Raymond-Judy worked until 5 p.m.to finish as much as they could before they returned to their homes in Minnesota.
The pair had already begun making plans for future excursions before they left, however. Next year, Andersen hopes to return to Turkey with Foss to continue the project in Çaltilar. Raymond-Judy plans a Winter Term 2013 trip to Greece led by Schindler.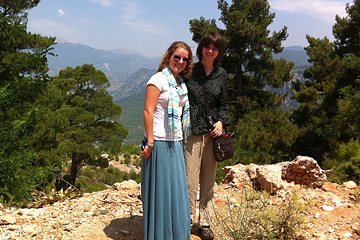 "Archaeology is a craft you have to apprentice to really figure it out," Foss says. You realize quite quickly whether you love it or it's not for you – there's no in-between."
With three years still ahead of them at DePauw, that's one more archaeological find Anderson and Raymond-Judy have already made.
Back