Trustees Approve Athletics and Recreation Master Plan, Accept $5 Million Gift From Scott '82 and Kim Welch
October 8, 2012
President Brian W. Casey today announced that DePauw University has received the first major gift toward the University's comprehensive athletics and recreation master plan, which was approved Friday by the Board of Trustees. The master plan will provide a road map for the University's investments in athletic and recreational facilities in the coming years. It calls for a series of phased improvements to the Lilly Center and athletic fields.
A $5 million commitment from M. Scott and Kimberlee A. Welch represents the lead gift on the Lilly Center project and will provide for the construction of the M. Scott and Kimberlee A. Welch Fitness Center. In total, the initial phase of the plan for the Lilly Center calls for a 36,000 square-foot expansion, which will include the new 16,000 square-foot fitness center.
"The strength of a college like DePauw is providing a total student experience," said Scott Welch '82, who also provided a $1.5 million gift to support ongoing enhancements to DePauw's new entrance along Anderson Street and to the recently completed renovation of the Emison Museum into the University's Office of Admission and Financial Aid. "The gifts of others made it possible for me to attend DePauw and, with their support, I came to appreciate the combination of strong academics and leadership opportunities inherent to athletics that is a hallmark of DePauw. Now Kim and I have an opportunity to support that vision."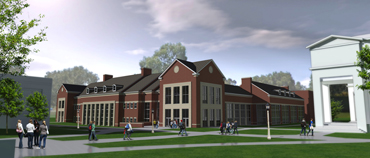 Additional fundraising efforts, currently underway, will support a 15,000 square-foot renovation of existing space in the Lilly Center, allowing for enhancements to varsity locker rooms, office space and the development of a dedicated kinesiology program laboratory. Proposed renovations will also create multipurpose spaces for group fitness classes, a new campus entrance to the facility, and a student lounge. In total, initial enhancements to the Lilly Center will impact 51,000 square-feet of space. (at right: rendering of a redesigned and expanded east side of the Lilly Center)
"Scott and Kim Welch care deeply about our students and this gift further underlines their commitment to our campus," said Casey. "This University is blessed to be able to count them among its strongest supporters, and I am deeply thankful for what they continue to do for DePauw."
"This generous gift is a bold demonstration of DePauw's commitment to providing first-rate athletics facilities for our students, faculty and staff," added Stevie Baker-Watson, Theodore Katula Director of Athletics and Recreation. "On behalf of our student-athletes, I extend my sincere thanks to Scott and Kim. Their support sends a signal to our prospective students, our current students, and our alumni that athletics and fitness is a priority in the student experience on our campus."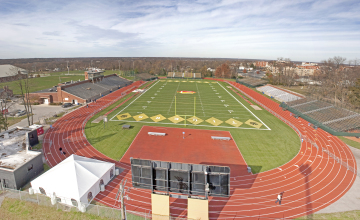 Additional enhancements called for in the comprehensive athletics and recreation plan include the installation of synthetic turf on the football field, the replacement of the track surrounding the field, the addition of a field events area for track and field adjacent to the intramural fields at the far west side of the athletic campus, and the construction of a multi-purpose competition venue (for soccer and lacrosse) south of Hanna Street. The plan -- developed with the assistance of Hastings+Chivetta, a leading athletic facilities architectural firm -- also calls for a number of sequential enhancements to Blackstock Stadium and to improve softball, tennis, field hockey, golf and baseball facilities.
Upon completion of initial enhancements to the Lilly Center, the master plan also calls for the construction of a dedicated competition space for basketball and volleyball and, eventually, a larger 50-meter pool for swimming and diving.
Scott Welch, a member of the University's Board of Trustees, is the CEO of Welch Packaging Group, Inc. As a student at DePauw, Welch received a B.A. in psychology and was a four-year letterman in football and golf. He currently serves on the board of directors of Lakeland Financial and Lake City Bank. He is a former board member of the Elkhart General Healthcare Systems, the Elkhart County Community Foundation, the Elkhart YMCA, and the Elkhart Chamber of Commerce. (photo: Welch, at far right, and his Tiger golf teammates with coach Lee Schoenfeld)
Back