DePauw Headed to NCAA Field Hockey Semifinals for First Time in School History
November 11, 2012
Story courtesy of Middlebury College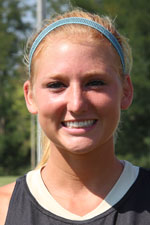 Paige Henry
Middlebury, Vt. – Paige Henry scored 5:40 into the overtime to give DePauw a 2-1 victory over top-ranked Middlebury in Saturday's NCAA Division III quarterfinal on Kohn Field.
The Tigers (21-1) handed the Panthers (18-1) their first loss of the season and will face Tufts in the NCAA semifinal on Saturday at William Smith College.
After being unable to convert on three penalty corners in the overtime, Henry streaked down the sideline, cut inside on a defender and blasted a shot from the top of the circle past Middlebury keeper Madeline Brooks to give DePauw the victory.
In the first half, Tiger goalie Maggie Steele came up with some big saves as she was able to keep DePauw in the game. She made a save on a deflection from Anna Kenyon early and late in the opening half made a diving stop on the far post on Catherine Fowler.
Lauren Greer tallied the lone goal of the first half, her 38th of the season. On a penalty corner, Alyssa DiMaio inserted the ball to Elinore O'Brien who made a stick stop for Greer as she hammered a shot home from the top at 24:32. The Panthers dominated the first half, holding an 11-0 advantage in penalty corners and outshooting the Tigers 13-0, but were only able to take a 1-0 lead into the break.
The second half was a much different game with DePauw putting some pressure on the Panther defense. The Tigers were able to get their first shot off, a strong backhand from Margaret Ellis, but Brooks swatted it away to maintain the 1-0 lead.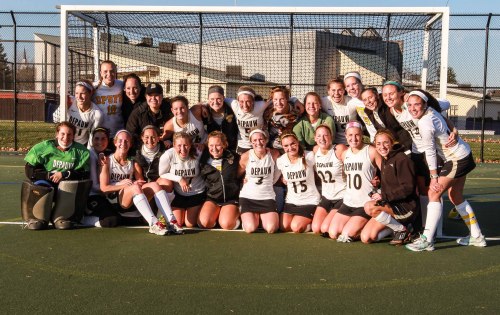 DePauw finally broke through at 57:24 when Bridgette Shamleffer sent a ball into the circle that deflected off a defender's stick right to Maggie Campbell on the far post. Campbell put the shot home earn her fifth of the year to tie it up at 1-1.
The Panthers tried to answer back, but Steele came up with five stops in the final 12:01, including back-to-back saves on Fowler in front of the cage, to force the game to overtime.
In the extra period, the Tigers were in control, earning three penalty corners and getting off a pair of shots before Henry netted the game-winner, sending DePauw to its first NCAA semifinal.
Steele finished with 13 saves for the Tigers, while Brooks made two stops for Middlebury.
For more information on the DePauw field hockey program, follow DePauw on Twitter (@DePauwAthletics / @DePauwFH) or like them on Facebook (www.facebook.com/DePauwAthletics).
Back