National TV Audience Gets Look at DePauw's People and Programs
November 10, 2012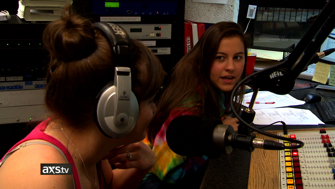 "As one of the oldest college radio stations in the country, WGRE has been equipping DePauw University students with the necessary tools to find their voicc -- quite literally," noted a piece that aired during halftime of today's 119th Monon Bell Classic. The report took viewers inside a senior communications seminar taught by Jeffrey M. McCall '76, professor of communication at DePauw, and showed how DePauw students get hands-on understanding of broadcasting and what it takes to manage a 24/7 operation at WGRE.
Besides Dr. McCall, the feature includes interviews with Caroline Torie, a DePauw senior and station manager, and senior Kate Hendrickson, WGRE's news director.
The video is embedded below:
The three-hour national telecast, produced by AXS TV, also showcased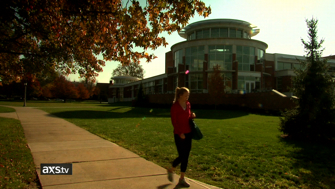 DePauw's Office of Civic, Global and Professional Opportunities, and offered a look how it connects the curriculum to cocurricular and experiential learning programs.
The minute-long piece included interviews with senior Kylie Kaspar, who described how international experiences have impacted her DePauw education, and Raj Bellani, dean for experiential learning and career planning. Bill Rasmussen, founder of ESPN and 1954 DePauw graduate, also appears. See it below:
"Along with academics, DePauw is the place where the leaders of tomorrow develop the social skills and confidence to succeed," stated yet another report which during the broadcast.
"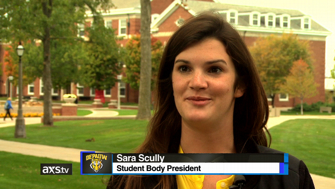 We've got over 130 student organizations and clubs that are recognized by the student body, ranging from everything from Greek sorority and fraternity life, to student government, to the badminton club," senior and student body president Sara Scully told AXS TV. "I think there are a lot of opportunities here that give every student an opportunity for leadership in something they're really interested in."
Henry Johnston, a junior English writing major, is also interviewed.
The feature is embedded below:
Learn more about the AXS TV telecast in this previous summary.
Back