Jane Goodall, Here in April, is Grand Marshal of Tournament of Roses Parade
January 1, 2013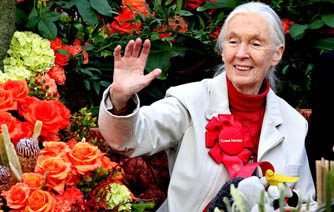 "A lifelong advocate for the protection of endangered species served as grand marshal for the 124 Tournament of Roses Parade Tuesday in Pasadena," reports KNBC in Los Angeles. "The theme for this year's parade, 'Oh, the Places You'll Go!' was selected with grand marshal Dr. Jane Goodall in mind, according to parade officials," according to Jonathan Lloyd. (photo at right: Allen J. Schaben/Los Angeles Times)
"The 78-year-old Goodall, a lifelong advocate for the protection of endangered species, rode in a horse-drawn carriage. She was accompanied by members of Roots and Shoots, her institute's global environmental and humanitarian youth program."
"We think Dr. Goodall's life story is a testament to the sense of adventure and openness to possibility that this phrase suggests, says Sally Bixby, president of Tournament of Roses. "As a young woman, she defied convention to follow her dreams,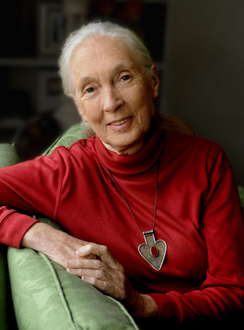 and she has committed herself to a life of global citizenship, inspiring children and adults alike along the way."
According to Goodall, "New Year's Day symbolizes the opportunity to work toward new goals, experience new beginnings and make a difference. My dream for this New Year's Day is for everyone to think of the places we can all go if we work together to make our world a better place."
Read more here.
Jane Goodall will visit the campus of DePauw University on Wednesday, April 17, to present a Timothy and Sharon Ubben Lecture. She will discuss "Sowing the Seeds of Hope" in an 8 p.m. address in Neal Fieldhouse, which is located within DePauw's Lilly Physical Education and Recreation Center (702 S. College Avenue). Like all Ubben Lectures, the event is presented free of admission charge and is free and open to all.
Learn more about Dr. Goodall's upcoming visit in this previous summary. A video history of the Ubben Lecture Series is embedded below.
Back