John McGowan '85 Tapped to Lead S&P Chicago Office
March 16, 2007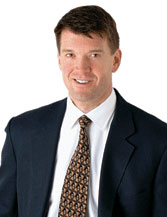 March 16, 2007, Greencastle, Ind. - John T. McGowan, a 1985 graduate of DePauw University, has been appointed director of Standard & Poor's Chicago office.
Crain's Chicago Business notes, "Standard & Poor's rates municipal bonds and bank loans. The company's analysts determine the likelihood that a municipal bond will default or how much a lender could recover if a loan went bad. Those ratings are sold to governments, bankers and analysts. So, by overseeing a 35-employee office that includes a team of bond and loan analysts, Mr. McGowan indirectly has a hand in which hospitals, schools and airports get built."
The article cites McGowan's degree from DePauw -- where majored in economics and psychology -- and that he earned a master's degree in public policy from Indiana University. It also describes his "6-foot-7-inch frame that barely clears the door ... While his stature helped him play center in high school and for a year at DePauw University, it didn't propel him to professional basketball. 'We were Division III, so there was little chance of going pro,' Mr. McGowan said. His stint as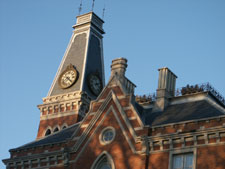 concert committee chair for DePauw also did little to turn him on to a promotions career despite booking General Public and Psychedelic Furs and chauffeuring Jay Leno around Greencastle, Ind. 'I spent a day with him,' Mr. McGowan said of the comedian. 'We had a pizza together.' "
You'll find the complete story at Crain's website.
Back