DePauw Opera Stages DeBat, Updated Version of Die Fledermaus, February 7-10
February 4, 2013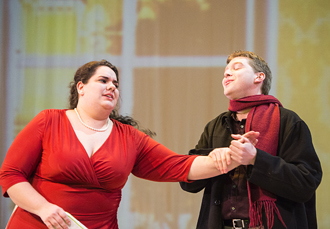 Twenty-five years ago a practical joke was played. Dr. Falke has had over two decades to plan his revenge … and now the time is ripe. February 7–10 is payback time at DePauw University's Green Center for the Performing Arts as the School of Music presents DeBat, a 21st century adaptation of Strauss' famous operetta, Die Fledermaus.
Setting Johan Strauss' work in the present was originally suggested by music director Orcenith Smith, who will conduct the four performances of the 2013 DePauw Opera production. Joachim Schamberger, guest stage director from New York, then adeptly set about preparing the adaptation of the story and the dialog --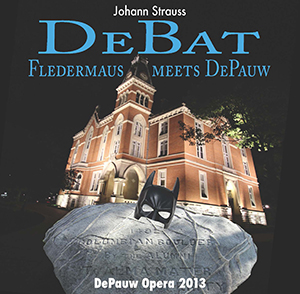 replete with party scenes in the Green Center Great Hall, the requisite joke played at the boulder, and the subsequent trip to the Putnam County Courthouse.
The two-hour performance, which contains some of the most recognizable tunes in all of opera, is both produced and directed by Schamberger. As it is staged during the celebration of DePauw's 175th anniversary, the show begins with a flashback to the college's sesquicentennial, 25 years ago, then flashes back again to the present.
"I began working on the project last June while I was in China," the director said regarding the evolution of the idea. "As soon as I'm confirmed for a project, I go to work on it right away. My mind was so full of ideas late one night that I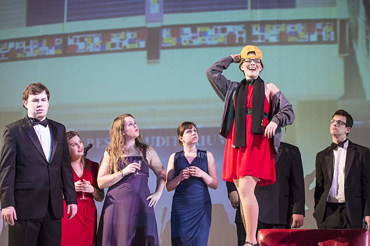 couldn't sleep, and this is the direction my imagination has taken."
A native of Germany with nearly 20 years experience in opera production, Schamberger estimates about six months of preparation time went into planning and designing the Winter Term project, which the cast has been rehearsing for the past five weeks.
The fully-staged, double-cast production will be performed in English with full orchestra. The part of Rosalinda -- leading "lady of the house" -- will be sung on alternate nights by sopranos Emily Barnash (Thurs./Sat.) and Elisa Sunshine (Fri./Sun.). Sopranos Emily Smith (Thurs./Sat.) and Stephanie Sharlow (Fri./Sun.) share the role of the spirited Adele, and baritones Erik Erlandson (Thurs./Sat.) and Blake Lampton (Fri./Sun.) will sing the part of the ill-fated Falke.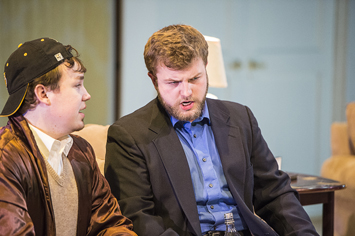 Tickets to the DePauw Opera production in the Green Center's Moore Theatre can be purchased at www.depauw.edu/music/tickets. General admission is $5 in advance and $7 the day of the performance. Thursday through Saturday night performances begin at 7:30 p.m., with the Sunday, February 10 matinee starting at 2 p.m. Tickets for children 12 and younger, all students, and seniors over 65 are free.
For additional information or assistance, stop by the GCPA box office located on the ground floor of the Green Center at 605 South College Avenue or call (765) 658-4817.
Back