Lockheed Martin Taps Lorraine Martin '84 to Lead F-35 Program
March 19, 2013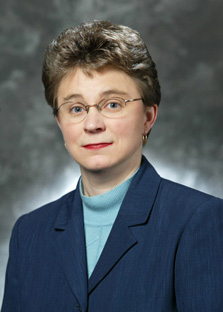 Lockheed Martin Corporation (NYSE: LMT) has appointed Lorraine Martin, a 1984 graduate of DePauw University, vice president and general manager of the F-35 Lightning II program. The company's board of directors also elected Martin a corporate officer. She had been serving as vice president and deputy of the F-35 program.
"As a seasoned leader with nearly 25 years of Lockheed Martin experience, Lorraine has a proven track record of driving operational excellence and has been instrumental in improving the F-35 program performance and delivering outstanding results for our customers," says Marillyn Hewson, Lockheed Martin chief executive officer and president.
"Since joining the Aeronautics business area in 2008, Martin has led the C-130 and C-5 programs, where she was responsible for all aspects of the design, delivery and sustainment of these successful aircraft programs," notes the company's announcementt. "She also led the Flight Solutions business, where she was responsible for developing and delivering U.S. and international military aircrew training programs, including the F-35 training system. Martin began her Lockheed Martin career in 1988, after serving five years as an officer in the U.S. Air Force," it adds.

A mathematics major at DePauw, Lorraine (Dunn) Martin also holds a master's degree in Computer Science from Boston University.
Read more at Yahoo! Finance.
Back